Hong Kong chief Leung Chun-ying has initiated the process of delivering on a pledge to have universal suffrage for the 2017 election of the chief executive.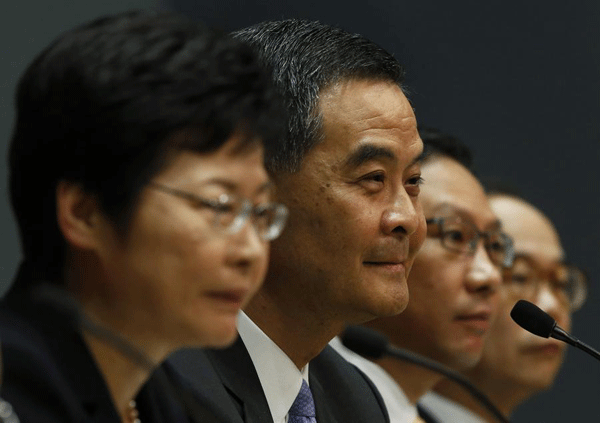 (From L to R) Hong Kong Chief Secretary Carrie Lam, Chief Executive Leung Chun-ying, Secretary for Justice Rimsky Yuen and Under Secretary for Constitutional and Mainland Affairs Lau Kong-wah listen to a question during a news conference in Hong Kong July 15, 2014.[Photo/Agencies]
The first step of that reform was taken on Tuesday when Leung submitted a report to the National People's Congress Standing Committee.
The NPC will decide whether to amend the Basic Law Annex at its next meeting, which is expected in late August.
"Today is a historic moment in the constitutional development of Hong Kong," Leung said at a news conference. He said the democratic development of Hong Kong will take big strides forward if the people put differences behind them in a rational and pragmatic manner.
He said the central government has always been promptly informed of Hong Kong people's aspirations - including those expressed in a demonstration on July 1 - but he reiterated that "we have to uphold the rule of law and act according to the law."
If the standing committee agrees to proceed with the reform, the Hong Kong government will put forth concrete options by year-end.
The reform requires the endorsement of two-thirds of the Legislative Council, and consent of the chief executive and the NPC Standing Committee.
Carrie Lam Cheng Yuet-ngor, chief secretary for administration, warned lawmakers that if political groups are unwilling to compromise and waste time on proposals that have little chance of being realized from legal and political perspectives, the city may miss the chance to implement universal suffrage in 2017.
The report said that the Hong Kong community generally agrees that the discussion on electoral reform should be made on the basis of the Basic Law and relevant interpretation and decisions of the NPCSC.
It said mainstream opinion in Hong Kong was that the power to nominate candidates for chief executive is only vested in the statutory nominating committee, as made clear in the Basic Law.
Elsie Leung, deputy director of the Hong Kong Special Administrative Region Basic Law Committee under the NPCSC, agreed with the administration's decision to not recommend an overhaul of the Legislative Council election.
The NPCSC decided in 2007 that universal suffrage for election of the chief executive is a pre-condition for that of the council. If the reform plan for 2017 fails, there will be no universal suffrage for the legislature in 2020, the former justice secretary pointed out.
Lau Siu-kai, vice-president of the Chinese Association on Hong Kong and Macao Studies, believes most Hong Kong people would not resort to confrontation to fight for "civil nomination" of chief executive candidates.
Contact the writer at kahon@chinadailyhk.com