Couple first foreigners to be charged under new personal information law
Prosecutors indicted a foreign couple on Sunday on allegations of illegally obtaining Chinese citizens' personal information, the first foreigners charged for gathering personal information after it became a criminal offense in 2009.
British citizen Peter William Humphrey, 58, and his wife, Yu Yingzeng, 61, a US citizen, were arrested in Shanghai last July while investigating people believed to be informing authorities about allegations of commercial bribery at Glaxo-SmithKline.
According to prosecutors, the couple collected information about companies and individuals through their company ChinaWhys, and sold that information to customers, mostly foreign firms in manufacturing and financial industries, and foreign law offices.
"About 30 percent of the cases are related to citizens' personal information," said Yu in her confession to police.
The personal information they provided in their reports included household registration information, family background, housing and automobile information, cross-border movement records, call records and information registered with business and commerce authorities.
The couple bought information from three information wholesalers in Beijing and Shanghai and employed people to obtain information by tailing and photographing their targets and hacking their e-mail.
Humphrey said in an interview with Beijing Times that GSK China paid his company 200,000 yuan ($33,000) to find who the whistleblowers were.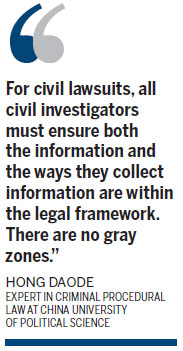 GSK China responded to China Daily's interview request with a statement that said it "hired ChinaWhys in April 2013 to conduct an investigation following a serious breach of privacy and security related to the company's China general manager. They were not hired to investigate the substance of the allegations of misconduct made by the whistleblower".
The couple said that after being detained for nearly a year they have realized their behavior was wrong.
Humphrey apologized for his mistakes and said he felt shame and regret about the harm to others his behavior caused.
Yu said she thought the business was "a gray zone". She regretted her actions and hoped Chinese judicial authorities would deal with the case leniently.
"For civil lawsuits, all civil investigators must ensure both the information and the ways they collect information are within the legal framework. There are no gray zones," said Hong Daode, an expert in criminal procedural law with China University of Political Science and Law.
Wang Hongyi contributed to this story.
liyang@chinadaily.com.cn