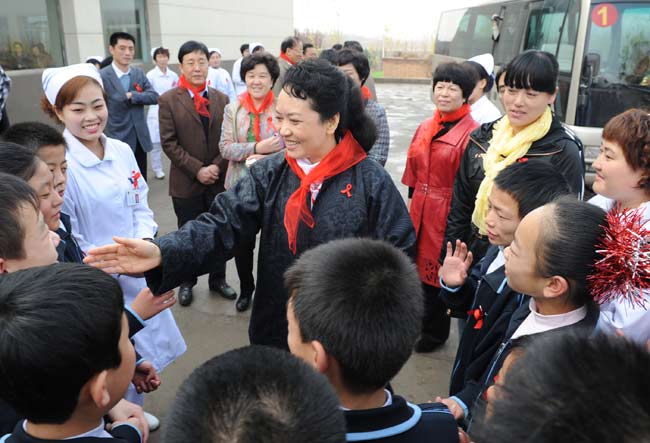 First lady Peng Liyuan talks with children suffering from HIV/AIDS at Red Ribbon middle school in Linfen, Shanxi province in November 2011. Provided for China Daily 
Youngsters at a school for HIV/AIDS patients share a common mom they know as "mother Peng".
"Dear children, we haven't seen one another for a while but you are always in my mind," China's first lady Peng Liyuan wrote in a letter to the 25 students at the Red Ribbon middle school in Linfen, Shanxi province.
The school caters to children with the disease who have lost at least one parent to the virus.
The letter, inscribed "your loving mother Peng", was delivered by officials from the National Health and Family Planning Commission on her behalf on June 26 to mark the school's 10th anniversary.
Peng is the commission's image ambassador for the control and prevention of HIV/AIDS and the World Health Organization's ambassador in the fight against the virus.
Peng visited the school, the only one of its kind in the country, in November 2011. The children were delighted as she talked and sang with them, said headmaster Guo Xiaoping .
Guo is also the head of the Linfen Third Hospital, which specializes in the treatment of infectious diseases. Peng's trip produced other benefits besides smiles on young faces.
Just days later the school was integrated into the local education system, which meant it began to receive government financing, said Wu Jianning, a division director at the hospital.
"Peng first met the children at a TV show gala in Beijing in 2009 and since then has constantly sent regards and gifts to them," he added.
The 16 children she met then will become high school students in the new semester. Several of them appeared in a series of AIDS public service announcements that featured Peng.
In her letter, she said: "You are unfortunate to get infected with HIV/AIDS, but you are lucky to have so many people from the whole society care for and support you.
"Be optimistic and enthusiastic to face the reality, to embrace the future, to pursue the dream, and to strive to fulfill the dream."
Wu said: "We appreciate all her efforts, especially in fighting HIV/AIDS-related discrimination and stigma, which are still rampant even today.
"The ultimate goal is to strive for a society free from discrimination where such children can easily attend normal schools with healthy children."
shanjuan@chinadaily.com.cn
(China Daily 07/17/2014 page5)