Foreign Coca-Cola employees are being offered hazard pay bonus to work in China. Say goodbye to the breakfast kiosks in Haidian of Beijing. And thousands of pounds of fish are found dead in a Beijing river due to high water temperatures.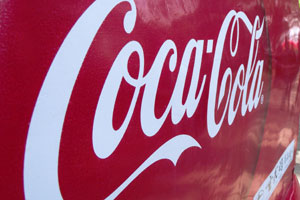 Coca-Cola offers expats allowance for air pollution excluding Chinese staff
Coca-Cola Co now offers a pollution hazard allowance for their expat staff who work in China, where the air is quite polluted, according to money.163.com on Wednesday.
Numbers of highly-skilled expats have left China, saying they can't bear the severe air pollution.
According to the report from the Australian Financial Review, the allowance is around 15 percent of an employee's base pay. Yet, Chinese staff are excluded from this benefit, as it claims the allowance is especially aimed at attracting more expats from abroad.
Related:
Coca-Cola invests $ 100m in green plant in Heilongjiang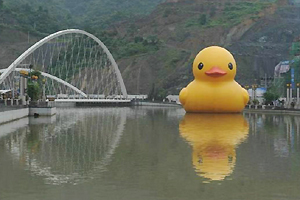 Rainfall sweeps away Rubber Duck
A generous reward will be offered for tip-offs that help find the world-famous Rubber Duck, which was washed away by floods while it was on show in Guiyang city, Southwest China's Guizhou province, local government issued a notice on its official Weibo account.
The inflatable Rubber Duck - by Dutch conceptual artist Florentijn Hofman - visited Nanming River in Guiyang on July 4, after stops in Chinese cities - such as Hong Kong, Beijing and Hangzhou – during its tour of the country which began last year.
Persistent downpours have wreaked havoc in southern and central China this week, causing floods and landslides. Guizhou meteorological authorities on Wednesday issued a red alert for torrential rain in Guiyang - where precipitation has reached 169.5 mm.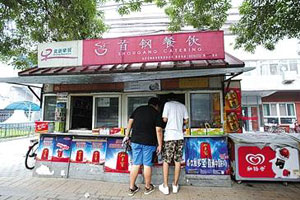 Breakfast kiosks to be removed in Haidian
Breakfast kiosks in Beijing's Haidian district will be gradually removed as local government attempts to curb increasingly rampant urban issues such as unlicensed operations and food safety, news site bjnews.com said on Thursday.
A new breakfast project will be launched after the removal of the breakfast kiosks, the report said, citing government officials from Haidian.
The district is likely to introduce settled breakfast stores in cooperation with large food chain enterprises, it said.
Related:
Western restaurants scramble for Chinese breakfast market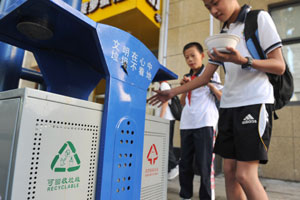 14-year garbage classification project appears to have little effect
Fourteen years after eight major Chinese cities began a garbage classification project, the result is not satisfactory in some places, including Beijing and Hangzhou, local magazine Oriental Outlook found out. Rampant disposal is still common and the living habitats of residents have been invaded by the rubbish, it reported.
Statistics show that one in three Chinese cities are facing a serious garbage problem. Of more than 600 above-town level cities, almost two-thirds, are surrounded by mountains of garbage. Urban waste has occupied more than 500 million square meters of land nationwide, which causes an economic loss of up to 30 billion yuan ($4.8 billion) each year.
Related:
Government's role in promoting garbage classification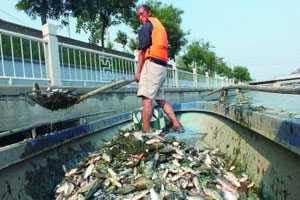 Released fish die from high water temperature
Thousands of pounds of fish released by citizens at random were found dead in a river in Beijing because of high water temperatures, Chinese-language newspaper Legal Evening News reported on Wednesday.
Cooling water discharged from a nearby thermal power plant and hot weather caused the temperature increase in the eastern part of the Tonghui River, a major waterway passing through downtown Beijing, the report said, citing regulators.
Similar incidents also occurred on May 31 and July 1, it added.
Related:
Dead fish in Shanghai river prompt safety fears

Foster mother cared for 140 children
A woman in Taizhou has been a foster mother to more than 140 children over the past 43 years, Qianjiang Evening News reported on Wednesday.
Yan Xuehua, 74, a farmer in the city's Yuetang village, fostered her first child in the winter of 1971 after going to buy vegetables at a local market and finding a baby girl. She took the abandoned child home.
Related:
Law would raise bar for foster parents

Ore-plant worker receives new lungs
A 50-year-old man in Macheng in Hubei province who inhaled excessive dust into his lungs during work had to pay about 200,000 yuan ($32,200) for a lung transplant, Changjiang Daily reported on Wednesday.
The man, Lei Jinshu, is in stable condition. Medical experts said the lungs removed from Lei are strong evidence of an occupational disease, and he could ask for compensation from his employer, an ore plant.
Related:
Macheng realizes tourism revenue of 3 b yuan

Man detained for injuring molester
Shenzhen police detained a man on suspicion of attacking another man who was molesting a woman, Southern Metropolis Daily reported on Wednesday.
The arrested man, surnamed Tu, 23, allegedly injured the other man, a guard at the Window of the World theme park, on July 1. The guard was trying to take the woman to a secluded alley against her wishes, for which the guard was placed under administrative detention.
Related:dd
Forum Trends: No excuse for sexual harassment

'Naked official' denies being forced to quit
The outgoing deputy head of Pingyang county in Zhejiang province said he resigned for personal reasons and not because he was pressured to quit, Qianjiang Evening News reported.
Born in a rich village of Wenzhou, Zhou Hui, 38, is a "naked official", a term used to describe government officials whose family members live abroad. He said he might go to Italy to join his wife to run a business.
Related:
Top securities exec resigns amid doubts of 'naked official'