Millions of updated maps are being distributed to members of the People's Liberation Army in the first upgrade in 30 years.
All major units will receive new, more accurate maps in the near future, PLA Daily reported on Thursday.
The Lanzhou Military Command, one of seven PLA ground force commands, has updated more than 15 million maps for its troops.
Many units still use maps produced in the 1960s that lack the detailed geographic data needed for modern military operations, combat training and disaster relief, the report said.
Production of the new maps began last year. The project took into account the diverse needs of different branches of the armed forces, said Wang Xiaoming, director of the Lanzhou Military Command's survey information center.
The maps have been prepared using a geocentric coordinate system, which defines locations according to their latitude, longitude and height. This approach is widely used by other countries' forces, said Wang.
They also feature data obtained by experts in geomorphology - the scientific study of landforms.
Training sessions are being organized for the troops that receive the maps.
Wang Huasheng, head of an air defense brigade at the Lanzhou command, said the maps would enable his soldiers to spend less time planning operations and would help to improve strike accuracy.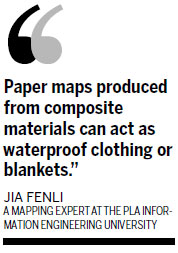 China's military maps are produced by the geographic survey services group under the PLA's General Staff Headquarters, and are categorized as classified information.
Jia Fenli, a mapping expert at the PLA Information Engineering University in Zhengzhou, Henan province, said paper maps will not be eliminated despite the increasing use of electronic ones.
"During the Gulf War, the United States' armed forces used nearly 35 million paper maps, while in the Kosovo war, British troops used more than 6 million paper maps," he said.
"Compared with electronic maps, paper ones are easy to carry and use."
The use of advanced materials means that modern maps can do more than just tell soldiers where they are.
"Maps produced from composite materials can act as waterproof clothing or blankets," said Jia. "They are very light, so soldiers will be more willing to carry them instead of some heavy electronic device."
In addition, using paper maps can avoid the risks that sometime arise from relying on electronic ones.
Jia said a malfunction in a satellite navigation device resulted in the deaths of three British soldiers in Afghanistan. A mix-up over coordinates meant the troops came under friendly fire from US aircraft.
zhaolei@chinadaily.com.cn