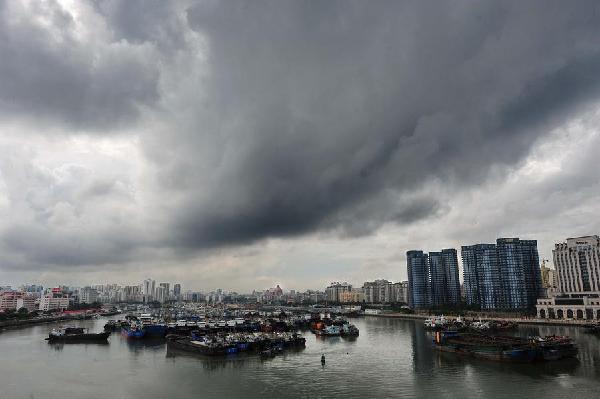 Fishing boats dock at a harbor in Hainan province asTyphoon Rammasun is expected to make landfall on Friday. [Photo/Xinhua]
HAIKOU - Typhoon Rammasun is expected to make landfall in south China's island province of Hainan or coastal area of Guangdong Province on Friday, the Hainan provincial meteorological station said on Thursday.
Rammasun, packing rainstorms and winds of up to 120 km per hour, is moving northwest at a speed of 20 to 25 km per hour and will probably land in Hainan or Guangdong with a maximum wind speed of more than 140 km per hour around noon on Friday, according to the station's forecast.
China's National Marine Environmental Forecasting Center on Thursday issued a red alert for high seas likely to be generated by Typhoon Rammasun within the next 24 hours in the northern part of South China Sea, and along the coast of east Hainan and west Guangdong.
Trains destined for Hainan on Friday and Saturday will instead stop at Guangzhou, while the operations of Hainan's high-speed railway, which connects the provincial capital of Haikou and Sanya City, has been suspended since Thursday noon, said the railway's operator Yuehai Railway.
Ships serving Weizhou Island, a tourism resort of Beihai City, in Guangxi Zhuang Autonomous Region, were suspended on Thursday afternoon because of the typhoon, according to local maritime authorities.
China has a four-tier color-coded weather warning system, with red representing the most severe warning, followed by orange, yellow and blue.