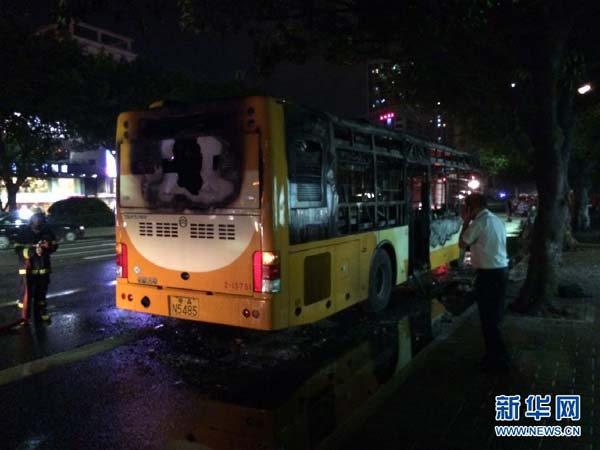 A bus catches fire in Guangzhou, capital of south China's Guangdong province July 15, 2014.[Photo/Xinhua]
Bus arsonists more or less share similar life experiences and their motivations of crime are alike, chinanews.com offered its perspective Thursday, a day after a suspect in the latest attack was detained.
Bus safety was put under spotlight again after the arson in Guangzhou on July 15.
In recent years, there have been a number of similar cases in many cities across the country such as Changsha, Hangzhou, Guiyang and Xiamen.
Although these arsonists differ in occupations and life choices, they committed the crime to take revenge on society because they were either unhappy with their life or work or were suffering from illness and wanted to take out their anger on others.
Let's have a look at some of the latest cases.
July 15, 2014. Place: Guangzhou. Suspect: Surnamed Ou, about 30 years old. Possible motivation: unhappy after losing money in gambling.
July 11, 2014. Place: Changsha. Suspect: Surnamed Chen, 30 years old. Possible motivation: wanted to go to jail as prison offered him a chance to get free food as he was unable to find a job and had only dozens of yuan left in his pocket.
July 5, 2014. Place: Hangzhou. Suspect: Bao Laixu, born in 1980. Possible motivation: the police said he was unsociable, tired of the world and reportedly wanted to become famous by committing a crime.
Feb 27, 2014. Place: Guiyang. Suspect: Surnamed Su. Possible motivation: suspected his wife was cheating on him and took out his anger on the society.
June 7, 2013. Place: Xiamen. Suspect: Chen Shuizong, born in 1950s. Possible motivation: police said Chen was dissatisfied and pessimistic with life.
These suspect had lost any hope of turning their lives around.
Bao Laixu, who set the bus on fire in Hangzhou on July 5, has been working in different paper mills in Zhejiang Province without a permanent place for six years. However, he left the paper mill he was working for last October after he contracted tuberculosis and other mills refused to hire him. "Smart and capable, he was a perfect employee." said Bao's former boss after the arson case.
The situation is the same with the arsonist in Xiamen, Chen Shuizong. Without stable employment and income, Chen Shuizong relied on government-issued benefits for low-income families. The trigger that led him to commit the crime was that he couldn't get his post-retirement social security benefits as he was not reportedly eligible for it.
Arson suspect in Guiyang surnamed Su chose to set a bus on fire was because he suspected his wife of having an affair and he took out his anger on others by setting the vehicle on fire. All these cases have set off alarm bells. In a modern society with rapid economic development, there are a great number of people still living at the bottom of the society and struggling to survive. Their psychological health needs more attention from the whole society.