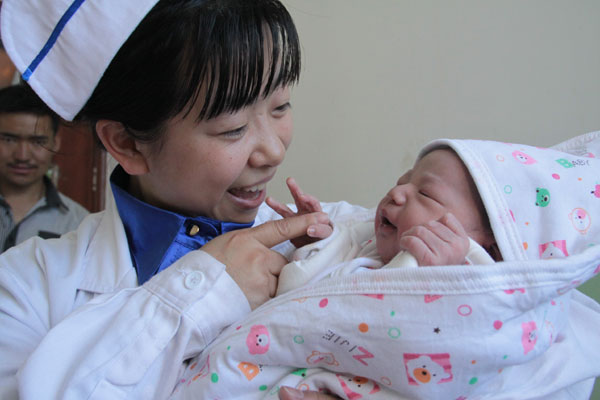 Doctor Song Zheng checks a newborn at the Lhasa Obstetrics and Gynecology Hospital. HU YONGQI/ CHINA DAILY

An aid program to help the people of the Tibet autonomous region has seen doctors from Beijing and Jiangsu province making a contribution to treating local people and training medical staff, as Hu Yongqi, Da Qiong and Palden Nyima report from Lhasa.
In the early hours of a Sunday in June, Li Hongxia was woken by a phone call from the Todlung Deqen People's Hospital in Lhasa, the capital of the Tibet autonomous region. Li jumped out bed, grabbed her coat and rushed to a delivery room to help a woman experiencing a difficult birth.
Shifting the focus from infrastructure to industry
By Xu Yongqi
Because the herders on the Tibetan plateau follow the seasons in their search for fertile pastures, they spent much of the year in makeshift accommodations, which are always under threat when blizzards or landslides occur on the exposed land. 
Although the prenatal examinations had shown no abnormalities, Tsongrig, the expectant mother, began to bleed heavily before delivery. The doctors treating her followed standard procedures because the 25-year-old Tibetan hadn't told them that she'd experienced the same problem when giving birth to her first baby.
None of the doctors on the night shift knew how to operate the ultrasound machine that would provide essential information, but when Li stepped into the delivery room just five minutes after she was phoned, the Beijing-based obstetrician immediately prescribed uterotonics, drugs that induce contractions and labor while reducing postpartum hemorrhaging.
"The patient was very nervous and refused to undergo a further examination when I got there. The key was to console her and keep her at ease. I caressed her hair, which was soaked with sweat, and smiled at her. I told her that I've treated cases like hers thousands of times in my 14-year career and that everything would be OK," Li said.
Tsongrig grew calmer and began to cooperate with the doctors and nurses. About an hour later, the baby was born safely and Tsongrig's husband burst into tears.
The case was just one of many Li has handled during her first year in Lhasa as part of the government-sponsored Aid to Tibet program. She's one of 413 professionals in various fields sent by the Beijing Municipal Government to provide a helping hand on the plateau, and divides her time between providing medical services and training the local doctors and nurses.
The program was started in 1994 after former president Jiang Zemin visited Lhasa. Jiang ordered that China's inland regions should provide assistance to the region, which was short of professionals in fields such as medical services, education, infrastructure construction and tourism management. Over the past 20 years, more than 6,000 officials and thousands of professionals have taken part in the program.
By the end of 2013, 18 provinces and municipalities, 70 central government ministries and departments, and 17 State-owned enterprises had carried out 7,615 projects across Tibet, at a cost of 26 billion yuan ($4.2 billion), according to The Tibet Daily.
Since 1994, the economy of Tibet has registered average annual growth of 12.7 percent, an improvement many observers attribute in part to the aid program. By 2010, Tibet had received 300 billion yuan from the central government, accounting for 93 percent of its budget, according to the regional finance department. By 2013, the region's GDP had soared 14-fold to 80 billion yuan.
However, experts on Tibet's economy say the economic and social developments will ultimately depend on the locals mastering the necessary technologies and management skills.
Acclimatization
Tsongrig expressed her gratitude for the safe birth by presenting the doctors with a silk scarf called a hada, a traditional goodwill gift. Li said all doctors have a duty to assist the sick and injured, but the work seems much tougher in the high country, 3,650 meters above sea level.
When Li's colleague Zhao Libo arrived in Lhasa, she felt as though her head was going to explode.
"Altitude sickness has been a problem for most of the people from Beijing. On the first night, I really felt the lack of oxygen, and a bad headache made me want to lean out of the window to get more air. But it was freezing, and I realized I couldn't do that," she said.
In the early days, Zhao and Li used bottled oxygen to relieve their breathlessness, but as time went by, they started to acclimate and the thin air became less troublesome.
The headquarters of the Beijing Aid to Tibet organization in Lhasa, said 78 doctors are working in Lhasa's hospitals, offering checkups and performing complicated surgical operations in four of the city's eight counties, while Jiangsu province is providing similar services in the other four.
Su Zheng, an obstetrician from Beijing, eases her breathlessness by telling herself to walk slowly and be studiously unhurried when treating women in labor. However, the thin atmosphere isn't the only problem she has faced in Tibet. "At the Lhasa Obstetrics and Gynecology Hospital, there was no sterilized operating room. The local doctors were used to that, partly because the air in the city is pretty clean, but it was unfathomable to my colleagues in Beijing," she said.
Every day after work, Su visited the hospital's president and urged him to upgrade the facilities. At the same time, she petitioned her employer, the Beijing Obstetrics and Gynecology Hospital, to sponsor equipment. Her persistence paid off, and a sterilized operating room was put into use earlier this year.
"The people in Lhasa are friendly, and the women in labor always have a smile for the doctors and nurses. The equipment shortage can be solved, but the connection with the locals is sacrosanct, so I really wanted to do something to help," Su said.
Outsiders who spend long periods on "the roof of the world" run an increased risk of high blood pressure or heart disease than in other parts of China. In addition, compared with prosperous East China, Tibet is short of high-end medical facilities, and the staff also requires further training, which means medical assistance is essential.
In 2012, doctors from 17 provinces started a campaign to provide a wider range of care for youngsters with congenital heart disease. In the last two years, more than 800,000 under-18s were given checkups, and of those, 1,495 underwent surgery free of charge, according to the Tibet health authorities.
Newborn mortality falls
Like Beijing, other provinces have provided highly skilled medics to Tibet's six prefectures, and since 1995, the Lhasa People's Hospital has received about 70 million yuan in aid from Jiangsu province.
Qiu Linfang, a pediatrician at the Lhasa People's Hospital, said the mortality rate for newborns has fallen to 3 percent from 30 percent 20 years ago.
Many county-based hospitals have benefited from the aid program, too. Three doctors from Jiangsu are working at the People's Hospital of Dagze county, and the number of deaths during childbirth has fallen dramatically under the guidance of the "imported" doctors, said Basang, the hospital's president.
"They knew how to operate the new equipment used during surgery, which we didn't. They helped us to establish new mechanisms for internal management, and more than 20 doctors at our hospital were given the opportunity to train in Jiangsu," he said.
For Li, training is an essential part of the program: "As the old Chinese saying goes: 'Even a clever housewife can't cook meals without rice.' What we have to do is to get the equipment and then show the local doctors how to operate it. With our help, I hope the local doctors will improve their skills. They all have a strong sense of duty."
All the doctors who work on the aid program were assigned as tutors to a local doctor or nurse. Li Hongxia said many of the local doctors maintain contact with their "tutors", after the visitors return to their hometowns.
Drolma, a doctor at the Damxung People's Hospital, said her tutor has returned to Beijing, but she lost no time in phoning him when she was treating a man who had broken both legs: "My tutor was very thorough and patient. He told where to check on the man's legs, and the drugs I needed to prescribe. It was very instructive, but also quite amusing that our conversation was like a long-distance lecture via the phone."
Contact the authors at huyongqi@chinadaily.com.cn and daqiong@chinadaily.com.cn