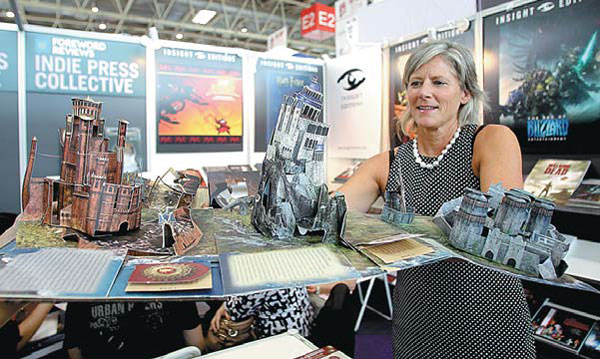 A 3-D book catches visitors' attention at the Beijing International Book Fair. Zou Hong / China Daily
A record of more than 2,100 publishers from 78 countries and regions gathered in Beijing for this year's Beijing International Book Fair, according to a senior official.
The five-day fair, which concluded on Sunday, also witnessed 4,346 copyright deals, a year-on-year increase of almost 20 percent. The number of export copyright deals jumped by 24 percent.
The annual fair, now in its 21st year, showcased 300,000 items. It also attracted 200,000 visitors, mostly local residents.
"BIBF has grown against the general downturn in the industry," said Zhang Fuhai, director of the international exchange and cooperation department of the State Administration of Press, Publication, Radio, Film and Television. "The number of participants here now outnumbers that of the London Book Fair."
"The steady growth of BIBF has a lot to do with the ever-expanding Chinese market," he said at a news briefing on Monday.
"For a long time, foreign publishers came to China because they wanted to get in the country."
But that has changed as Chinese exports come into the limelight, he said.
According to the administration, China's Paths from the China Publishing Group, Why Is China Successful? from the China International Publishing Group, and other books that reflect the country's recent growth, changes and mentality, were among the most popular at this year's event.
The number of export deals signed at BIBF outstripped import deals.
The exports now head to countries in addition to China's Asian neighbors. They are available in more languages, too, according to the administration.
The book fair owes its success in part to the "going-out" project, in which items are introduced overseas with national support.
The going-out aspect of the publishing business exceeded 23 million items and more than $104 million in exports last year, according to administration statistics.
Mei Jia contributed to this story.
sunye@chinadaily.com.cn