The conjoined twin girls Zheng Hanjing and Zheng Hanwei are expected to begin gastrointestinal feeding and start breathing independently on Friday, doctors said, two days after a four-hour operation to separate them in Shanghai.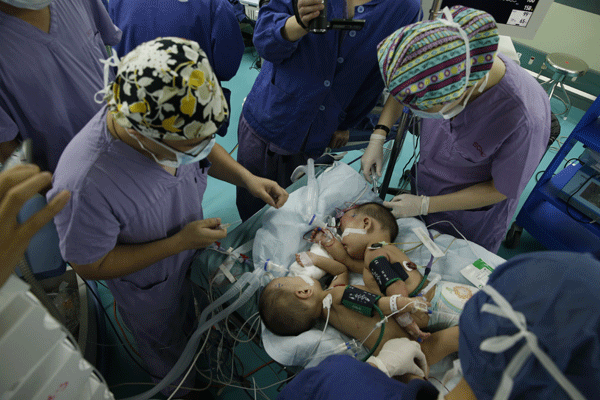 Doctors help the conjoined baby girls get ready for an operation at Shanghai Children's Medical Center on Wednesday. Yin Liqin / for China Daily
The 10-month-old twins were conjoined at the chest and abdomen and shared a liver and part of the pericardium, the double-walled membrane that holds the heart in place. After the operation on Wednesday, the older sister, Zheng Hanjing, weighed approximately 8 kg and Zheng Hanwei about 6 kg.
The girls are receiving care in the Shanghai Children's Medical Center's intensive care unit. On the first night after the operation, they both had fevers of 39 C due to their weakened immune systems. Doctors have adopted a treatment plan to control potential infections, the center said.
"Postoperative care during the first night is particularly important. It's very likely for them to have instability in their circulatory functions because of their large wounds, as well as septic shock," said Dr Xu Zhuoming, ICU director at the center. "We are glad to see that they both made it through."
Xu added that the girls won't be out of harm's way until they survive their first week after surgery. A team of experts is currently monitoring their progress.
The operation was conducted by a team of experts in cardiothoracic surgery, orthopedics, anesthesiology diagnostic radiology and other specializations from the center.
The hospital has arranged a special ICU ward for the girls, which is equipped with a specialized bed that allows the girls to face each other, much as they were before the operation.
"Conjoined twins have more emotional and physical connections than other twins. ... (With the bed), they can keep staring at each other all the time," said Xu, who added that the bed will bring psychological benefits to their recovery.
The two girls were abandoned at birth and discovered by police in August.
They were taken in by the Pingdingshan Child Welfare Home in central China's Henan province.
The Beijing-based Angel Home charity organization has helped care for the conjoined girls since last year. After consulting with many hospitals, the organization decided to take them to the Shanghai Children's Medical Center, where doctors have successfully separated three pairs of conjoined twins before.
The conjoined girls arrived in Shanghai on June 19 and the money for their operation came from donations from individuals and enterprises, according to the Pingdingshan Child Welfare Home.