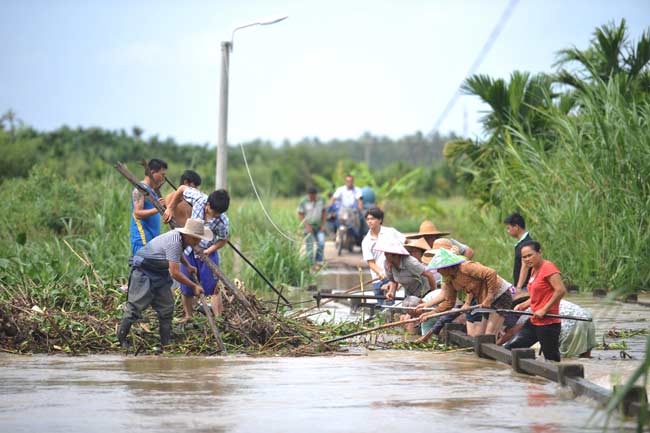 Residents protect a bridge from being destroyed by floods in Qionghai, Hainan province, July 19, 2014. [Photo by Meng Zhongde/Asianewsphoto]

HAIKOU/NANNING -- The death toll from super typhoon Rammasun has increased to 17 as of Sunday as one more person was confirmed dead in the island province of Hainan.
Rammasun, the strongest typhoon to hit south China in four decades, brought gales and downpours to a number of southern provinces. At least two people are missing, according to local civil affairs authorities.
The latest statistics showed that more than 5.57 million people were affected by Rammasun as it swept dozens of southern coastal cities in Guangdong and Hainan provinces, and Guangxi Zhuang Autonomous Region.
Eight people, including two government officials who were in a rescue operation, were confirmed dead in Hainan, while nine others are from Guangxi.
The typhoon seriously damaged power and water supplies, telecommunications networks, ports and roads, making rescue work more difficult.
Hainan, where Rammasun made its first landfall on Friday afternoon, suffered the worst damage.
The typhoon destroyed about 51,000 houses and 40,600 hectares of crop, causing economic losses of over 10.8 billion yuan (1.74 billion U.S. dollars), the provincial civil affairs authorities said.
More than 1.13 million households were cut off electricity. After two days of repair work, power supply in the city proper of the provincial capital Haikou was resumed Sunday night.
The local power grid company said power supply would resume in the entire city within three days.
The provincial government has allocated 100 million yuan (16.1 million yuan) to help the worst-hit areas.
As Rammasun moved out of Hainan, all the airports in the island had reopened by Sunday morning. Ferry, rail and bus services have also resumed.
The typhoon, however, scared many tourists who were stranded in the tropical island province.
"Strong gales, two feverish children, no food, no water and no drugs. These are the most terrible things I have suffered in my life," said a woman from Guangxi, who only gave her family name as Su.
Su was among more than 150 tourists stranded for nine hours in buses in Anding County when they were traveling from Sanya to Haikou. Gales were sweeping at 200 km per hour and the bus had to stop.
The tourists called police for help. They were later resettled at a local school and given food and bottled water.
Guangxi, which is still under the spell of the typhoon, has reported a direct economic loss of 1.63 billion yuan (261.63 million U.S. dollars) so far.
Twenty-four trains were suspended for three days starting on Friday in Guangxi, and railway authorities were expecting services to resume Monday.
Rammasun is expected to continue moving northwest at a speed of 20 kilometers per hour, bringing heavy rainfalls to the west of Hainan and Yunnan Province, according to meteorological authorities.