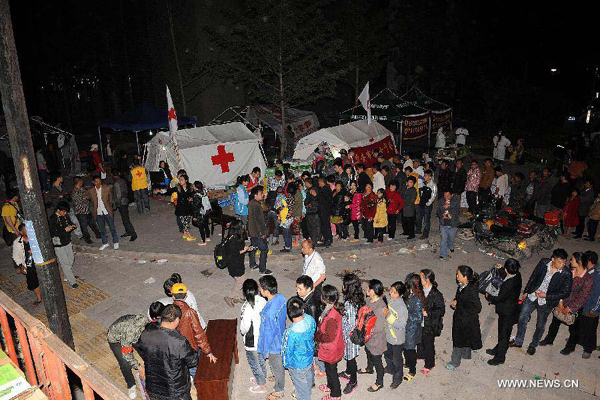 Victims queue to get relief materials from volunteers of the Red Cross Society of China in Lushan County of Ya'an City, Southwest China's Sichuan province, April 21, 2013. A 7.0-magnitude earthquake jolted Lushan County on April 20 morning and by now more than 330 medical workers and voluteers from the Red Cross Society conduct relief work in the quake-hit region. [Photo / Xinhua]
The Red Cross in China is once again gaining heat from the public for improper use of resources after they sent several thousand winter quilts to aid those in parts of southern China, which have been devastated by heavy rains and a recent hurricane, the Beijing News reported on Monday.
Typhoon Rammasun brought heavy gales and downpours to the regions of Hainan, Guangdong and Guangxi, leaving tens of thousands of residents desperate for aid.
While the Chinese Red Cross Society has sent emergency supplies to hurricane-stricken areas, the organization is being accused of misappropriating resources for sending 3,000 winter quilts in the middle of July.
Yang Xusheng, Deputy Director of China Red Cross Society's relief aid department, confirms that the organization sent winter quilts to aid efforts in the aftermath of the hurricane. He explains that quilts are indeed in certain areas of Guangdong due to temperature differences between daytime and night time. He adds that the quilts have multifunctional applications in disaster relief.
The Chinese Red Cross Society was at the center of controversy in 2011 when a woman named Guo Meimei claimed she was the general manager of the Red Cross in China. Netizens were in an uproar over pictures Guo posted of her flaunting money and living lavishly. The official Red Cross denied having any affiliation with Guo. An official investigation into the matter revealed that the woman was lying about being involved with the Red Cross.
However, suspicion has circulated online since the incident, with many calling for the real Red Cross to disclose its donation information to the public.