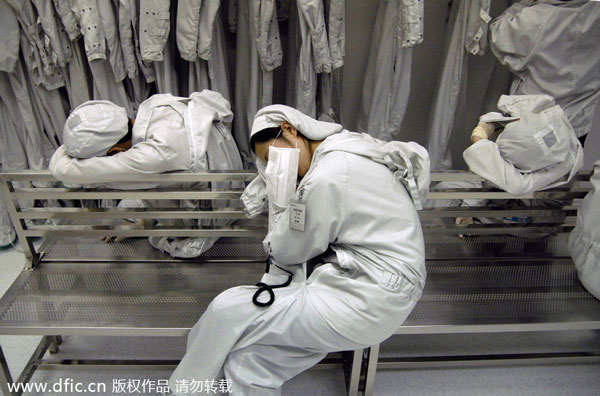 Female workers take a nap on the bench during a break at a plant in Chang'an town, Dongguan city, South China's Guangdong province, in this April 20, 2011 file photo. [Photo/IC]
About 700 young workers in Dongguan, a major production base in Guangdong province, have died in their sleep in the past decade.
According to the Epidemiological Study of Sudden Unexplained Nocturnal Death Syndrome, more than 90 percent of the victims were production line workers, with males accounting for 93 percent.
Most were between the ages of 21 and 40.
According to the survey, conducted by Cheng Jianding, a professor from Zhongshan School of Medicines at Sun Yat-sen University, at least 1,124 cases were reported in Dongguan between January 1990 and August 2013. Of these, 697 were from 2004 to 2013.
About 1 out of every 100,000 workers was hit annually by the syndrome.
"SUNDS mainly happened to workers with high labor intensity and poor education," the survey said.
Most of the victims were migrant workers from around the country. They were employed by the city's construction, chemical, electronics, home appliances, metal, furniture, garment, shoe and toy companies.
The labor department in Dongguan, the Pearl River Delta city known as a "factory of the world," refused comment on Monday.
Zhang Yiri, an associate professor from Guangzhou City Polytechnic, attributed the growing number of cases in Dongguan to the unreasonable payment system, which encourages people to work overtime.
"Many bosses pay very low base salaries to workers. But the payment for overtime work is higher," Zhang said.
"Therefore, many people apply for overtime to earn extra money," he said.
Peng Peng, a senior researcher at the Guangzhou Academy of Social Sciences, said government departments and employers should improve working and living conditions for migrant workers and raise minimum wages.
Wang Xiaofeng, a migrant worker in Zhongshan, said he would not be able to earn enough if he refused to work overtime.
"The base salary is really low," said Wang, who is working with a home appliances company.
zhengcaixiong@chinadaily.com.cn