Will singer Wang Feng pop the question to girlfriend Zhang Ziyi? DVDs are the gift of choice for President Xi in Argentina. And a "haunted mansion" in Beijing is drawing the adventurous to brave its dilapidated – but dangerous – structure.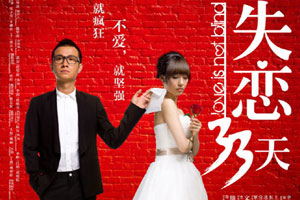 President Xi's state gift choice - DVDs
Chinese President Xi Jinping gave a distinctive state gift to Argentina's Vice President Amado Boudou - a set of DVDs during his visit on Saturday to the South American country, Beijing Youth Daily reported on Tuesday.
The DVDs include popular Chinese TV series such as Beijing Youth and the film Love is Not Blind. Beijing Youth tells the story of four youths who work hard to fulfill their dreams and to pursue love in Beijing.
Love is Not Blind depicts the value of love among Chinese youth by telling the story of a girl who recovered from lovelorn grief. Both of the two stories show how young people cope with life's difficulties in a positive way.
Xi Jinping received from Boudou an Argentine national soccer team jersey with his name on it.
Related:
Wen Zhang, Bai Baihe join 'Love is not Blind'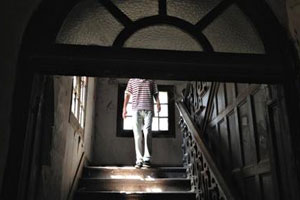 The scariest 'haunted mansion' in Beijing hot among adventurers
An abandoned, century-old, supposedly haunted mansion in downtown Beijing known for its legendary ghost tales has become a popular place for adventurers after the thriller movie based on it, The House That Never Dies, was released, the Beijing News reported on Tuesday.
The mansion is located at the No 81 at Chaoyangmennei Street in Dongcheng District. The two ancient buildings inside the mansion used to house a training school for the US Catholics in the early 20th century. It has been dubbed the scariest mansion in Beijing by adventurers due to its dilapidated condition and online rumors about ghosts there.
The administrators of the mansion said that the wooden-structure building is unsafe for visitors and hope that tourists will take a rational perspective on it.
Related: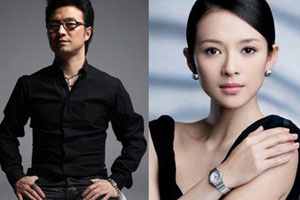 Rumor says Wang Feng will propose to Zhang Ziyi
Good news will be heard from singer Wang Feng and famous actress Zhang Ziyi after the recent news of marriage from actresses Gao Yuanyuan, Tang Wei and Zhou Xun, according to news.163.com on Tuesday.
It's said Wang Feng plans to give his girlfriend, Zhang Ziyi, a surprise proposal at the end of his concert on Aug 2. But now that Zhou Xun got married at a concert on July 16, Wang Feng needs to rack his brains for something new to make his proposal unique and receive a YES from Zhang Ziyi.
Related:
Zhang Ziyi shoots for fashion magazine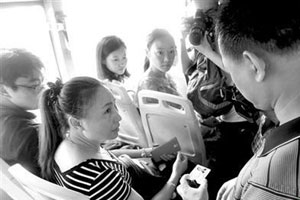 More than 300 plainclothes police patrol bus stations daily in Guangzhou
Guangzhou government has deployed more than 300 plainclothes policemen to patrol buses or major bus routes and stations every day. Their priority is to be on the look out for dangerous articles or explosive devices, New Express Daily reported Tuesday.
In the action, staff is arranged on every bus's waiting platform to check suspicious pieces of large scale luggage passengers might bring aboard.
Related:
Qingdao bus station improves anti-terrorist capability

Fake dog bites were self-inflicted
A 67-year-old woman in Wuxi injured herself but claimed she had been bitten by dogs so she could get money from dog owners, Legal Daily reported on Monday.
The woman, surnamed Huang, injured her own hands and legs and then went to rural areas to find houses whose occupants kept dogs. She told them that their dogs had bitten her, and she demanded money to treat the injuries. From May 2012 to June 2014, Huang got about 10,000 yuan ($1,611) through the scheme, which she used 17 times, the authorities said. She was detained by police.
Related:
Clothing worn by Cixi's dog on display

Woman's poor driving skill damages house
A woman in Wenzhou seriously damaged her parents' house when she drove to visit them in her new car, Wenzhou Evening News reported on Sunday.
The woman, surnamed Ye, who was accompanied by her husband and child on July 16, crashed into a structural pillar of her parents' house and broke it, causing the two-story house to collapse. No one was injured. The traffic police who investigated said Ye's poor driving skills contributed to the accident. She got her driver's license in December 2013 and has driven a car infrequently in past six months, they said.
Related:
Armless man ticketed for driving without license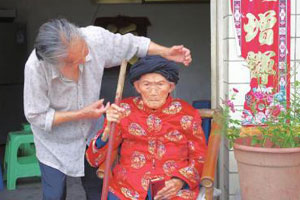 At 117 years old, woman still enjoying health
A woman believed to be the oldest citizen in the province celebrated her 117th birthday on Saturday, Southwestern Metropolis Daily reported on Monday.
Fu Suqing, a villager in Shuangliu county, Sichuan province, was born on July 19, 1897, and continues to enjoy good health. She said she eats cooked pork slices every day. Even at such an advanced age, Fu manages to do some farm work.
Related:

Decapitated body of missing 9-year-old found
The body of a 9-year-old pupil in Fuyuan county who had been missing since March 12 after failing to return home from school was found decapitated, Chuncheng Evening News reported on Monday.
A police investigation is ongoing. The boy's killer is still at large. Recently, the victim's parents brought a lawsuit against his primary school, seeking compensation of 210,000 yuan ($33,828) as they considered the school to be responsible for the child's disappearance.
Related:
When an only child dies, hope evaporates