A new survey says most doctors don't want their children to pursue a medical career. Quilts being distributed in typhoon-stricken areas not among the most needed relief supplies, critics say. And Hangzhou subway will have its own "love trains" for Qixi on Aug 2.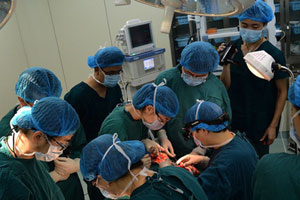 60% of doctors prevent their children from studying medicine
Nearly 60% of doctors clearly say that they will prevent their children from joining the medical profession and some even want to drop out themselves, according to a survey from the medical profession website "Lilac Garden", China Youth News reported on Monday.
The survey result shows that high labor intensity, low professional satisfaction, incompatibility between their ability and income fail doctors' expectations, as well as threats of personal safety and other realistic problems.
Related:
China probes beating of doctor, pregnant nurse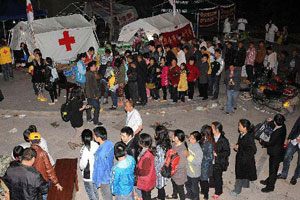 Red Cross Society allocated winter quilts to typhoon-stricken areas in summer
The Red Cross Society of China extended a helping hand by allocating 3,500 cotton quilts but the disaster-stricken areas in South China - Hainan, Guangdong, and Guangxi Zhuang Autonomous Region - are in the dog days of summer, Beijing Times reported on Monday.
Many people claim these relief supplies are not the most necessary for disaster-stricken people, since power and water are now seriously needed. The Red Cross Society of China replied that the quilts are standard relief materials, which could be used as either a duvet or bedding, considering the large temperature gap between day and night.
Related:
Typhoon Rammasun to land in south China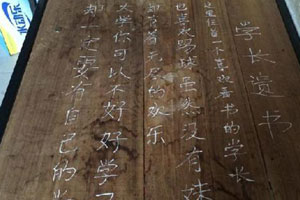 Encouraging notes left by graduates in a dormitory
A note left by graduates in a college dormitory room's bed board and closet have spread quickly online, which aroused heated discussion about the college students' high spirits, according to gwm.cn on Monday.
The note reads "It is fine if you don't have a girlfriend or impressive marks in study, but you have to have a hobby of your own, then you will not have any regrets when you think of your college days. Study hard; don't play LOL (an online game)."
Netizens gave positive remarks and shared their own similar experience to advise the undergraduates to cherish their time at college and not to play online games.
Related:
Handmade postcards by college seniors go viral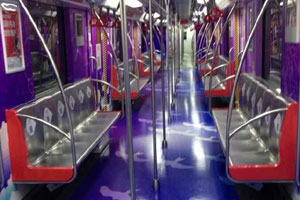 "Love trains" operate during Chinese Valentine's Day
Hangzhou subway Line 1 launched the "love trains" from July 15-31 for the Chinese traditional Valentine's Day, or Qixi, coming on July 7 in the lunar calendar, which falls on Aug 2 this year, xinhuanet.com reported on Monday.
Three classic love themes originating from Chinese ancient love stories are applied to the "love train" carriages. Passengers will see one "love train" in every 30 that rushes by.
Related:
105-year-old train station bids goodbye
39 punished for making, spreading online rumors
Two micro-blog users were arrested and 37 others received administrative punishments, education and were admonished for making and spreading rumors about anti-graft investigations, the Ministry of Public Security said on Sunday.
The two arrested netizens, named Ma and Pei, concocted a rumor on July 15 that "a military air control would be imposed between Beijing and Shanghai to prevent a person being investigated from fleeing". Massive public unrest and agitation ensued, the department said in a news release.
Related:
Two Chinese men punished for rumor mongering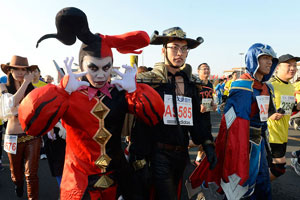 Beijing Marathon opens registration for foreigners
The 2014 Beijing International Marathon has begun registration for foreign runners, organizers said on Sunday.
The mini marathon has been canceled. The full marathon will be open to 26,000 and half marathon to 4,000 runners. For more information on the marathon, visit beijing-marathon.com/en.
Related:
Marathon runners told to use public toilets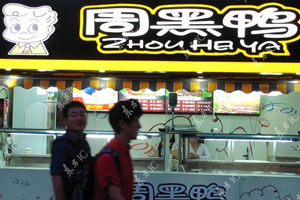 Food firm's deal with Transformers goes sour
The product placement deal between Zhouheiya, a Chinese fast food chain known for its spicy duck's neck, and Transformers 4 has gone sour, according to Xinhua News Agency.
Zhouheiya's lawyers wrote the film's associate producer in Beijing on Sunday. Hao Lixiao, Zhouheiya vice-president, said a two-second shot in the film of a Zhouheiya packing box fell short of the company's expectations.
Related:
Blockbuster 'Transformers' criticised for smoking shots in China

Wuxi airport to open to foreign airlines
The airport in Wuxi has been authorized by the State Council to be open to foreign airlines, Xinhua News Agency reported on Sunday.
Wuxi Sunan International Airport now serves six overseas air routes: to Hong Kong, Macao, Taipei, Singapore, Osaka and Jeju. Opening the airport to foreign airlines is expected to boost the city's economic and trade exchanges, the city government said.
Related:
Wuxi counter opens for Shanghai airports