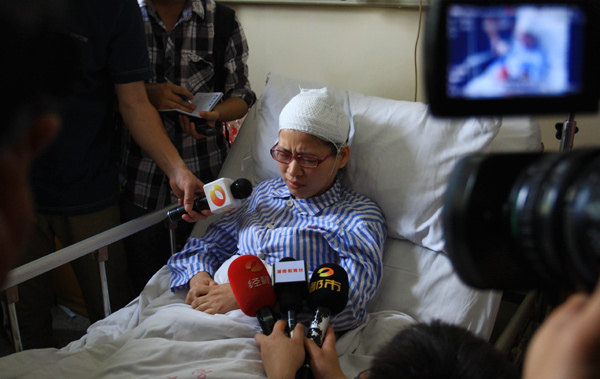 Wang Ya, a doctor and a pregnant nurse, lies on bed to have an interview on June 3, 2014, after she was beat by family members of a patient in a hospital in Changsha, capital of Central China's Hunan province. [Photo/Asianewsphoto]

CHANGSHA -- Central China's Hunan province has launched an investigation into the beating of a doctor and a pregnant nurse by family members of a patient in the latest hospital attack that shocked the nation.
Police are looking into the case in a hospital in Changsha, capital of Hunan, and the provincial People's Congress also said it kept close attentions, as the assailants allegedly involved one staff member of the legislature.
A female doctor and a nurse, five months into pregnancy, were hit by family members of a lung cancer patient at the wee hours of Monday, said doctors at the the First Hospital of Hunan University of Chinese Medicine.
Zhang Tao, the husband of the doctor, told Xinhua that the patient's families beated the two medical staff while they were providing emergency treatment to the patient, threatening to kill them if they should fail to save the patient.

Violence erupted again after the patient died. The 29-year-old doctor was forced to kneel before and kowtow to the body in a show of apology, the husband said. 
The nurse said one attacker claimed to be a civil servant. The doctor suffered concussion, bruises and organ damages, and the nurse reported signs of threatened miscarriage. Both of them have been hospitalized.
China has seen a spate of attacks on medical staff in recent years amid strained patient-doctor relations. Chinese patients often accuse doctors of rushing consultations and prescribing excessive medicines, while doctors have complained about overwork, low pay and being frequently misunderstood.
In October 2013, a man stabbed a doctor to death and wounded two others at a hospital in the eastern city of Wenling in Zhejiang Province. The man later confessed he was angry with the results of a previous nasal surgery.