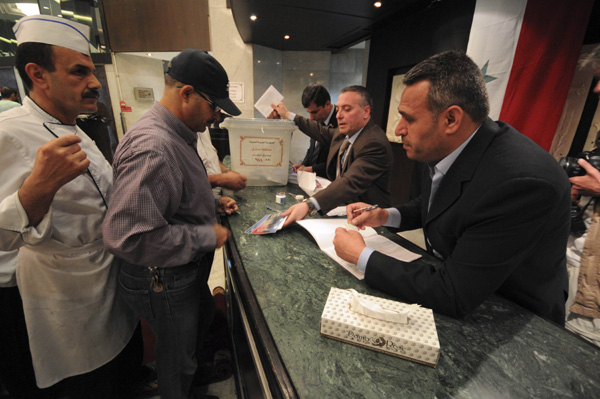 Men cast their votes at Dama Rose hotel during the presidential election in Damascus, June 3, 2014. [Photo/Agencies]
Syria's one-day presidential election started Tuesday, with more than 15 million eligible and registered Syrian voters expected to cast their ballots for the country's three presidential contenders, including incumbent President Bashar al-Assad.
The Interior Ministry said 9,610 polling stations are available across the country amid reports that the government has also set up ballot boxes in displacement shelters to allow thousands of displaced Syrians to participate in the voting process.
The vote is taking place despite rejection by the opposition and their Western backers, who have dismissed the poll as a "farce".
Opposition rebels have even threatened in online statements to unleash attacks against polling stations to disrupt the process.
"We announce the commencement of targeting the security headquarters, the polling stations, their committees and members as of Tuesday, June 3, and thus we ask the citizens to stay away from the mentioned areas," one statement read.
"We declare Damascus a military zone until the end of the filthy elections," another said, warning people to stay away from polling stations considered by rebels as "legitimate targets."
On Monday, rebels in Damascus suburbs fired several mortar shells that almost hit security headquarters. The mortars landed near the Faculty of Art of the Damascus University and in many other residential areas, causing injuries and property losses.
Amid the threats, the Syrian government seems to have taken all necessary measures to secure the voting process. Reports say public transportation is free on Tuesday to serve those who want to reach polling stations.
Checkpoints at Damascus' entrances have further tightened inspection measures, while the authorities have secured government establishments and areas where polling stations and booths are set up.
The Interior Ministry said on Monday that it was taking all required procedures to facilitate citizens traveling to and from city centers for the vote.