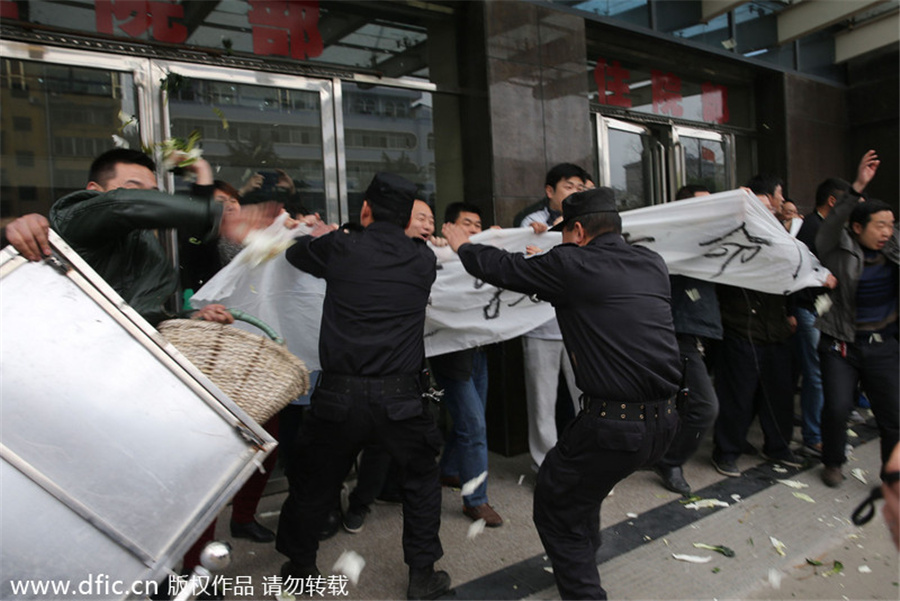 People playing the role of relatives of a patient in a simulation exercise at the entrance of a hospital building, shout and unfold banners, and clash with other participants playing the role of police and doctors, in Laohekou city of Central China's Hubei province, on March 19. The drill was initiated by the hospital and local police.[Photo/icpress.cn]
More than forty police officers and staff members of Huimin Hospital in Laohekou city of Central China's Hubei province carried out a drill on Wednesday, with the aim of improving emergency preparedness concerning terror attacks and doctor-patient clashes.
Participants played the role of relatives of a patient who had died in the hospital, and rushed into the building, shouting and unfolding banners with messages demanding compensation, and they also simulated a clash with doctors.
The drill included six relatives -- supposedly ex-convicts carrying knives -- and police officers, doctors and bystanders were hurt.
The police managed to overpower the attackers, evacuate the injured, cordon off the area and closed major roads, so as to help apprehend the suspects.
Three knife-wielding attackers were captured at the site, and the police shot dead one who fled to a nearby public square and was attempting to hurt random passers-by.
But a comment on Xi'an city.com criticized the idea of holding an anti-terror attack drill in a hospital. The poster said that, though there are cases of doctor-patient violence in China, most involve unarmed civilians, not terrorists, and the incidents are not as serious as terror attacks.
But the comment also said anti-terror drills are necessary in the wake of the Kunming attack which killed 29 and injured 143 on March 1.
On Friday morning, in the latest case of patient-doctor violence, a patient hacked three doctors with a 20cm long  knife at the Fifth People's Hospital of Shanghai. He was subdued within five minutes of the start of the attack. The 50-year-old male has lymph cancer and was discharged form the hospital on March 17. His motivation for the attack is under investigation, CCTV reported on its official Sina Weibo account, a popular microblogging site in China.
On Feb 25, Chen Xingyu, a female nurse at Nanjing Stomatological Hospital, was partially paralyzed  in an attack by the parents of a female patient in a women-only ward, after Chen placed a male patient under general anesthesia in the ward. There is still a possibility that Chen may walk again one day. It was the only bed available in the hospital's Intensive Care Unit that night.
Related:
Nurse in Nanjing attacked by patient's parents
Survey: 67% don't trust doctor