Substantial results from event in Jilin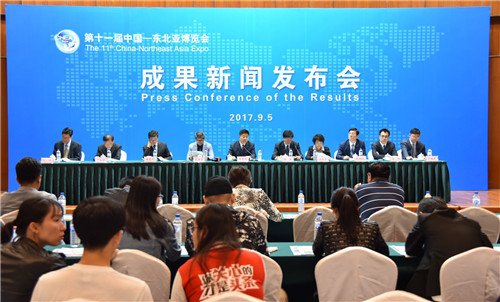 The 11th China-Northeast Asia (CNEA) Expo came to a close at the Changchun International Conference Center in Changchun, capital city of Jilin province, on Sept 5.[Photo provided to chinadaily.com.cn]
The 11th China-Northeast Asia (CNEA) Expo came to a close at the Changchun International Conference Center in Changchun, capital city of Jilin province, on Sept 5. Li Jinxiu, vice governor of Jilin province reported the immediate results of the five-day event.
He said the event yielded substantial results on multiple fronts, especially in terms of the attendees and business volumes.
Over 10,000 exhibitors and visitors coming from 116 countries and regions around the globe attended the expo.
The number of high-ranking officials was double that of the previous year.
Over 186 senior executives from Chinese branches of Top-500 companies and multinationals, along with 33 senior managers from top Chinese companies and 40 financial institutions and agencies were in attendance this year.
The foreign trade volume reached $ 837 million, an increase of 4.5 percent year-on-year, with export and import orders totaling 689 million and 139 million, respectively. The domestic trade volume amounted to $374.64 million, up 6.8 percent over the previous year.
A total of 235 contracts worth of 224.3 billion yuan ($34.26 billion) were signed during the expo, ranging from automobile and auto parts industry, the petrochemical industry, the agricultural products processing industry, the equipment manufacturing industry, pharmaceuticals industry, and health and service industry.
Since the expo started in 2005, it has generated trade deals valued at more than $8 billion.