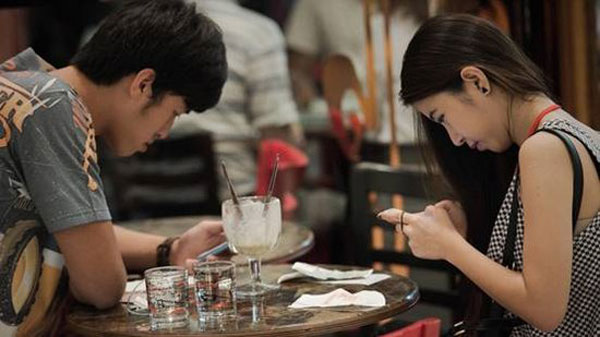 A young couple concentrate on their mobile phones while having dinner. In many cases social media has become a destabilizing factor in marriages. [File Photo]
There has been such a surge in divorce rate in the country that registration offices are struggling to cope with the rush.
In the southern city of Guangzhou, no dates are available for couples to file for divorce with the local office until next month except for a few days in Tianhe, Haizhu and Baiyun districts, according to the website of Guangzhou marriage registration office.
Chinese couples must have their divorce certified by marriage registration office or resort to court, which means an even more complicated process, before they can officially be separated, according to the marriage law.
"We are seriously understaffed," said a director of a local marriage registration office in Guangzhou speaking on condition of anonymity, "all of our workers are operating in full capacity."
The office has six counters that help 100 couples get married or divorced apart from issuing 300 certificates that certify single status on a daily basis. It takes 15 to 20 minutes to issue a marriage certificate, half an hour or even longer to issue a divorce certificate and five to 10 minutes to issue a certificate to singles.
With the recent increase in divorce rate, the handling capacity of these offices has come under serious strain.
Short temper brought about by hot weather is one reason contributing to rising divorce rate, especially during summer break when families are faced with more housework and caring for children or the elderly, according to senior marriage counselors.
Some couples may have a quarrel on Saturday or Sunday, and then rush to marriage registration office to seek divorce on Monday or Tuesday, making the two days the busiest for divorce application.