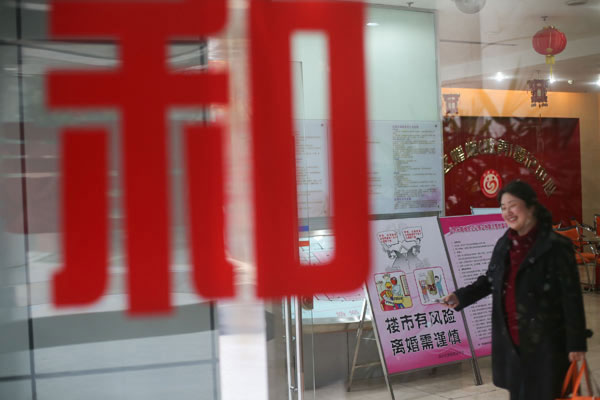 A Shanghai marriage registration office displays a sign warning about risks in the property market and telling buyers to think twice before getting divorced. Divorce rates in some major cities have risen dramatically in the first three quarters, with experts saying many couples are divorcing to avoid paying property taxes. [File Photo]
What's more, June to September is the annual divorce peak season in China when most children have completed their senior high school admission exam and college entrance exam, the two most important exams for Chinese student, so parents don't have to fake their happy marriage any longer for the sake of better performance of their children at the exams.
More divorce cases were processed in the 20 days after the college entrance exam than in the 20 days before it by many courts in a number of Chinese provinces and municipalities such as Shandong, Zhejiang, Liaoning, Hunan, Tianjin and Chongqing ever since 2009.
Nearly 500 couples sought divorce in the first week following the college entrance exam mostly on grounds that they were incompatible and that they didn't want to continue their marriage for the sake of their children in Changsha, Central China's Hunan province, a figure that was almost twice the number in the previous week, according to a Changsha-based newspaper Sanxiang Metro.
Unlike most young couples who tend to end their marriage on impulse, most middle-aged couples, who are burdened with so many responsibilities, choose to sever their tie after serious deliberation.