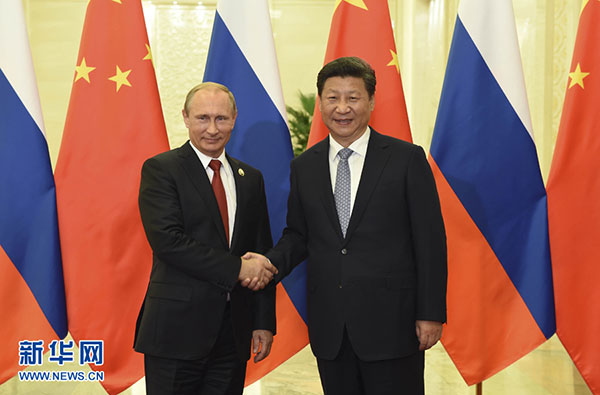 Chinese President Xi Jinping shakes hands with visiting Russian President Vladimir Putin in Beijing, Sept 3, 2015. [Photo/Xinhua]
China and Russia signed nearly 30 cooperation documents including a series of energy deals on Thursday during Russian President Vladimir Putin's stay in Beijing to attend China's V-Day celebrations.
The signings were witnessed by President Xi Jinping and his Russian counterpart.
Xi also met with United Nations Secretary-General Ban Ki-moon on Thursday and reaffirmed China's commitment to peace.
Among the deals, Russia's second-biggest gas producer Novatek signed a framework agreement for China's Silk Road Fund to obtain a 9.9 percent stake in its Yamal liquefied natural gas project, the company said in a statement.
The deal was first discussed in August and is worth an estimated $1.4 billion.
The Yamal project is the Silk Road Fund's first investment in Russia. Novatek holds 60 percent of the shares, while French company TOTAL and China National Petroleum Corp each hold 20 percent. They have invested more than $10 billion in total.
Russia's top gas producer Gazprom signed a memorandum of understanding with CNPC to supply gas to China from Russia's far east, Alexey Miller, deputy chairman of Gazprom's board, said.
Russian oil giant Rosneft signed a framework agreement to buy a 30 percent stake in ChemChina and also signed an agreement offering Sinopec joint development of the Russkoye and Yurubcheno Tokhomskoye oil fields in Russia.
Sinopec also signed a strategic investment treaty to buy shares in Russia's petrochemical group Sibur.
China and Russia have been accelerating cooperation in the energy sector as China's fast-growing economy needs natural gas supplies and energy-rich Russia faces financial challenges.
Vice-Premier Zhang Gaoli met with Miller on Aug 26 in Beijing, saying that the two countries should expand their energy cooperation in addition to natural gas deals.
In November, China and Russia signed a 30-year contract for gas supplies to China through a western route, which followed a $400 billion deal that will deliver 38 billion cubic meters of gas to China annually through an eastern route, starting in 2018.
China began work on the eastern supply route in September last year and plans to complete it by 2018. The two deals will make China the biggest consumer of Russian gas when delivery starts.
Zhang said authorities from the two countries should ensure that eastern route natural gas projects are completed on time and accelerate negotiations on the western route project.
Miller said Russia wants to enhance energy trading, upstream exploration and processing businesses with China to ensure both nations' economic growth and energy security.
Industrial experts believe both countries can increase their cooperation to new-energy sectors including solar and wind power, where Chinese companies are using advanced technologies.
Reuters contributed to this story.