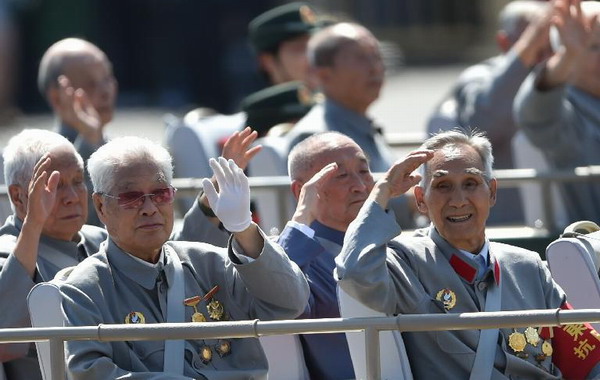 Veterans, whose average age is more than 78, salute to the spectators during the military parade marking the 70th anniversary of the victory of the War of Resistance against Japanese Aggression and the World Anti-Fascist War, in Beijing, Sept 3, 2015. [Photo/www.news.cn]
For me and many others who I've spoken to, the highlight of China's grand military parade on Sept 3, 2015 to commemorate victory over Japan in the WWII was the way to it honored not just the veterans living today, but the millions who gave their lives to make that victory possible.
As I watched on television, I was nearly moved to tears as the veterans leading the parade waved to the crowd. One could only imagine what was going through their minds seeing the fruits of their labor and service to mankind. Seventy years after the end of the Second World War they witnessed a grand celebration of that victory over some of the darkest moments in human history.
By all standards, it was an impressive parade. A show of military strength and power that China maintains is a deterrent against any future or possible invasion. As I learned earlier, the parade included 12,000 soldiers and had almost a staggering 84 percent of its entire weaponry and arsenals on display - a move that its generals describe as a sign of transparency to the world and those who see China's military industrial development as a threat to its neighbors.
Technically, I saw the parade as China's reassurance to the world, global powers and its neighbors that it is not a threat, hence the inclusion of, and first time, foreign troops were invited to participate in the parade.
For Chinese, I think it's a remembrance that the Chinese dream will not waver, that it is on course. That the dream that millions gave up their lives and fought for, in my opinion, has become a reality.
To maintain that, it is important, as President Xi stated in his speech directed at the Chinese people, that for peace to prevail China must move forward under the Communist Party and all ethnic groups must follow the socialist path and forge ahead in reaching their goal.