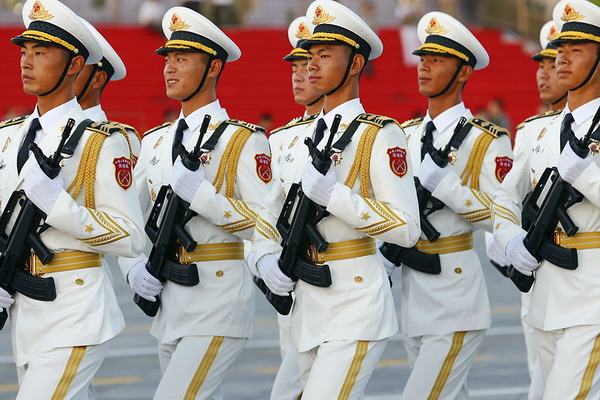 Soldiers of PLA march in formation past the Tian'anmen Square before a military parade to mark the 70th anniversary of the end of World War Two in Beijing. [Photo/Agencies]
It's been more than half a century since the end of World War II and for some, 1945 is a time so long ago that it has begun to escape our global consciousness. For others, however, what occurred is still very much a part of the present. There are those who lived through those days and remember them vividly as if it was yesterday. There are others that see current events and are reminded of this past war (and others before it). Some of us look to the images of the millions of Syrians escaping their sad reality and are reminded that even today – in an age of cutting edge technological development – we still have not found a way to solve our problems peacefully.
We are reminded time and again that the human race is capable of repeating mistakes of the past. Thursday's Victory Parade is a reminder of mistakes of the past and a need to move towards the future. Modern day society lives in a world of instant messages and so, there are very few occasions for us to reflect collectively on our past. In the case of China, history still haunts those who suffered during the Japanese invasions, as well as their families. It is true that a country should not be held prisoner to its past and new generations should not pay for the mistakes of their predecessors. However, it is also true that in order to heal and move forward, particularly when there have been significant human rights violations, sincere apologies are one of the ways a nation can truly start to move forward. An apology is not an act of weakness but an act of strength.
The parade reminds the world that peace should not be taken for granted. It reminds us that China's experience is not unlike other events of the past and unfortunately, of the present and of the future. If there is a country that bets on the future, that country is China. And on the rare occasion where China so publically takes a moment to reflect on its past, on the sacrifices of millions who fought the Japanese army, and on the injuries the country suffered during the war, perhaps it is an opportunity for us as well, as global citizens, to reflect on the meaning and the continuing need for peace.
The author is an investment consultant with the Foshan Bureau of Commerce and a former research scholar in China-Latin America Economic Relations at Harvard Law School and Tsinghua University.