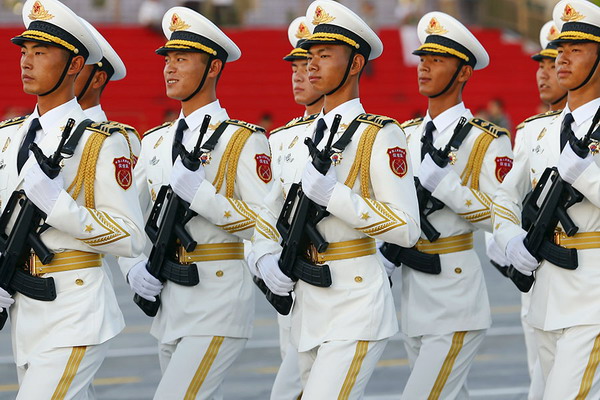 Soldiers of PLA march in formation past the Tian'anmen Square before a military parade to mark the 70th anniversary of the end of World War Two in Beijing. [Photo/Agencies]
A military parade in China is often described as a threatening move aimed at intimidating neighboring countries. Yet the facts are that since 1959 China held only four, while many other countries hold them far more often. The United States is the exception but Americans have their particular military culture to play the role.
Apart from the display of military capacity, a parade can also bind military and civil society. Thursday's parade may be seen as a combination of domestic and international factors.
The process of reform and development of the Chinese military has gathered pace since 2009 and the leadership wants to present the new face of the PLA to its people.
More importantly the parade, marking the end of WWII, was a valuable chance for this vast country to eliminate frictions and unite its people as one. That is especially important for China and it is exactly the reason for Russia's WWII commemoration parade.
Our two countries suffered the heaviest human losses during the war, but managed to win. The victory laid the foundations for all further development and today's international order. Any attempts to politically or ideologically veto or attack that heritage are extremely dangerous and viewed as hostile political acts.
From a military point of view, the parade indeed highlighted the changing balance of military power in Asia and globally. That process is natural, unavoidable and unstoppable. China is now the second largest economy and the largest trading nation on the planet.