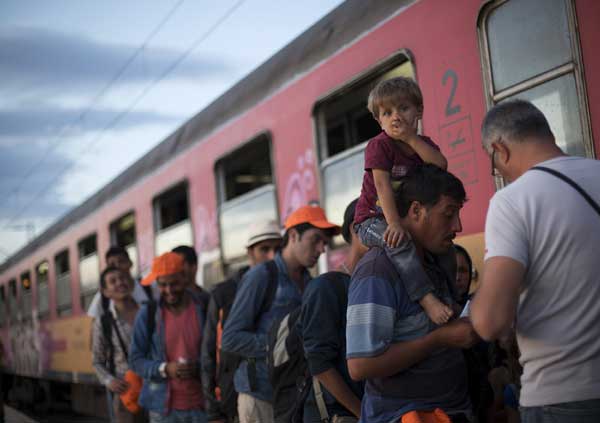 Migrants board a train after crossing the Macedonian-Greek border near Gevgelija, Macedonia, September 6, 2015. [Photo/Agencies]
Germany and Austria have opened their borders to accommodate more refugees fleeing from war-torn countries in the Middle East after the image of drowned 3-year-old Syrian boy, Aylan Kurdi, washed up on a Turkish beach went viral on the Internet. Also, Australian Prime Minister Tony Abbott on Monday promised to increase the intake of Syrian refugees in the wake of the humanitarian crisis. Comments:
In essence, it was the United States' interventions in the Middle East that fueled the latest refugee crisis. Highlighting the risks that millions of desperate asylum-seekers face in getting to Europe, the three-year-old Syrian boy's death has inspired a wave of Western soul-searching and prompted calls for the international community to shoulder due responsibility and maintain regional stability.
Beijing News, Sept 5
The US has very consciously accepted stewardship of global stability, and in Syria the Pax Americana has developed an ugly crack. And since our various Syrian forays - clandestine aid to rebels, airstrikes threatened and then held back, explicit aid to rebels - look like failures at the moment, we're partially implicated in the continuing catastrophe. It seems reasonable to believe that by accepting so very, very few refugees - only 1,500 so far - from a conflict our Middle Eastern misadventures worsened, the United States is failing in its obligations to the Syrian people.
New York Times, Sept 6
As a self-styled leader of the world, it shames the United States that it is its selfish foreign policies that have stirred up the chaos and anarchism that enabled the rise of extremist and terrorist groups in those countries. Now as Europe struggles to cope with a daily influx of thousands of refugees, the US should act immediately and do more to help solve the refugee crisis and work out long-term measures to help the troubled countries and regions restore calm, stability and normal life as soon as possible.
Xinhua News Agency, Sept 5
In fact, the West may not be truly interested in helping the non-Western countries to achieve efficient governance. Having instigated the so-called color revolution in the Arab world, Western countries like the US may not want to play a role in restoring social order and economic prosperity to the nations concerned because the price is exorbitant. It is the local people who take the brunt of failed "democratization", instead of enjoying the fruits of the US-led revolutions.
Global Times, Sept 7