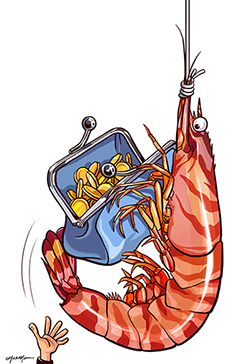 For most hardworking Chinese people, the annual Golden Week holidays are usually an eagerly anticipated time to have a break or travel with other family members, relatives or friends. And every one who travels hopes to encounter hospitable local residents and honest and credible businesspeople in their destination.
However, it is common to hear complaints from tourists about the fraudulent practices of local shop owners during the National Day and Spring Festival holidays every year. The exposure of such bad behavior is not only a discordant note in the otherwise generally jubilant festival atmosphere; it also casts a shadow over people's choice of holiday destination. For example, reports that a local restaurant owner in scenic Qingdao, East China's Shandong province, significantly overcharged a tourist for shrimps during the just-concluded National Day holiday, has once again fueled public indignation over the lack of effective measures to protect consumer rights and interests at tourist sites.
According to media reports, a tourist who complained of being overcharged for a seafood dinner at a restaurant in the eastern port city said that he checked the price of a dish of shrimps with a waiter before ordering it and was assured that the price was 38 yuan ($5.98). However, when the bill arrived, he was asked to pay 1,520 yuan for consumed shrimps because the price quoted was for each shrimp. When he queried the bill, the restaurant owner threatened his family, and when he approached local authorities, he was advised to pay the bill as demanded although the police offered him help.
After news of this open and coercive overpricing circulated on the Internet, it quickly inflamed public sentiment and sparked criticism and mockery of the local law enforcers. Although Qingdao's price authorities later confirmed that the involved restaurant has been closed down and its owner fined 90,000 yuan ($14,170), the adverse effects the incident will have had on people's impressions of the city and the domestic tourism industry in general will be difficult to change soon. Just days ago, a tourist from Shenzhen complained he was lured into spending 5,000 yuan at a bar in Lijiang, a well-known tourist site in Yunnan province, Southwest China, by two female wine promoters.
As a matter of fact, overpricing in a fraudulent manner is not rare at tourist destinations nationwide. Every winter, a peak time for tourists to visit Sanya, a tropical scenic resort in Hainan province, there are always complaints about the overpricing malpractices of local shop owners, who sometimes use intimidation. Despite the corrective measures by some local authorities along with punishments meted out to the owners of the businesses involved in recent years, similar behavior is still reported during the holidays because the punishments are not enough to deter unscrupulous businesspeople from cheating.
The authorities should not turn a blind eye to such malpractices, particularly since the arrival of the Internet means an individual event can easily become amplified out of all proportions.
The overpricing or other malpractices at tourist destinations, such as forced shopping by tour guides, along with widespread low-quality services, will only drive more domestic tourists to overseas holiday destinations if left unchecked. Such prospects will waste the unremitting efforts of the country to expand domestic demand and develop a consumption-led economy to facilitate economic transformation and structural adjustment.
As Chinese people are more willing to travel and spend during the holidays once they become wealthier, the owners of businesses in tourist destinations nationwide should be encouraged to have a service-first awareness so as not to lose out in competition for domestic tourists.
The author is a senior writer with China Daily. yixuewu02@sina.com.cn