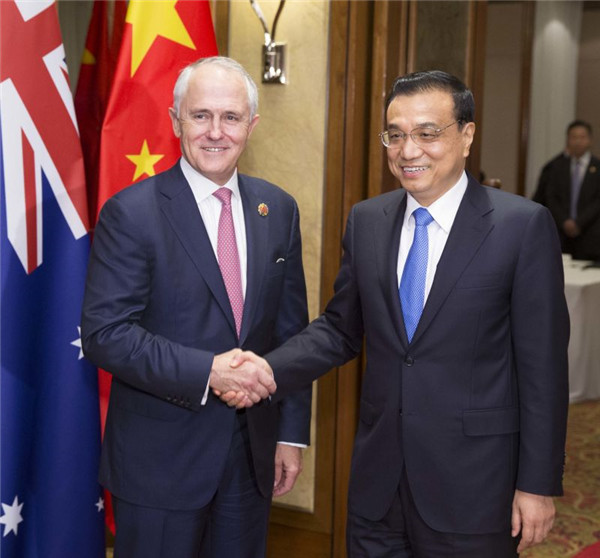 Chinese Premier Li Keqiang (right) shakes hands with Australian Prime Minister Malcolm Turnbull during their meeting on the sidelines of a series of regional summits in Kuala Lumpur, Malaysia, Nov 21, 2015. [Photo/Xinhua]
In his 18-minute speech on Sunday formally announcing a double dissolution election on July 2, Australian Prime Minister Malcolm Turnbull highlighted his government had set the stage for strong trade with China and Asia.
The Australian leader obviously considers the free trade agreement with China, which was signed on June 17 last year and took effect on December 20, a valuable political asset for his coalition government.
His campaign, which has put its economic management at the forefront, will likely hold up the FTAs the ruling coalition has signed with China, Japan and South Korea since winning the election in 2013 as good business for Australia.
The China-Australia FTA agreement is widely perceived as a game-changer in bilateral trade, which will contribute to meaningful bilateral interaction and to the larger picture of economic integration in the Asia-Pacific as well.
It opens new horizons for China-Australia trade and economic ties and enables it to emerge from the previous growth pattern that was largely driven by China's demand for Australian minerals and other natural resources.
Only four months after the implementation of the FTA agreement, people on both sides have already seen a lot of changes brought about by the new arrangement. Chinese, for instance, now find themselves enjoying a much wider range of products from Australia, including farm produce, dairy foods, seafood, wines, and health products.
Australia is also becoming a hot destination for Chinese tourists traveling abroad. According to the Australian Bureau of Statistics, in the 12 months to March, arrivals from the Chinese mainland and Hong Kong outnumbered New Zealanders, the first time Australia's biggest neighbor has lost the top spot in the history of the survey, which dates back to 1991.
And the property markets in Australian cities such as Sydney and Melbourne are heating up thanks to the zeal and zest of Chinese property investors. According to China's largest international real estate property portal, Juwai.com, Chinese buyers made 61 per cent more inquiries about Australian property in the first quarter of this year than the same period last year.