Editor's note: The growth of e-commerce in China has outpaced that of its Western counterparts during the past five years. Why has e-commerce been more successful in China? Forum readers share their opinions.
TedM (UK)
China is huge! There is no effective register of businesses and shops for people to refer to, unless the internet is used. If the internet is used to locate a shop or business, it is easier to get what is required directly by post, and cheaper. (Why go out to seek the premises?)
China has developed a wonderful delivery service and easy and secure payment methods. It is relatively easy for a business to open on the internet.
However, in the West going out to buy something is a part of leisure activities; a pleasant thing to do. (Like many men, I dislike traipsing around shops...so I like e-shopping)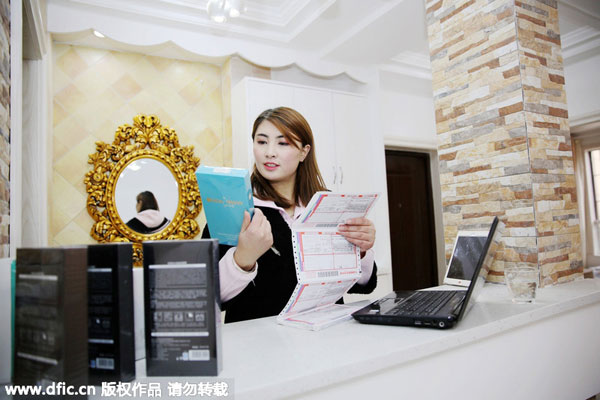 Wang Shanshan, a 27-year-old mother of two, opened an online cosmetic shop on WeChat, where she has nearly 5,000 followers. She checks delivery orders at home in Huai'an city, Jiangsu province on Jan 31, 2015. [Photo/IC]