Opinion
/
Positive energy Leifeng laowai story
Editor's Pick: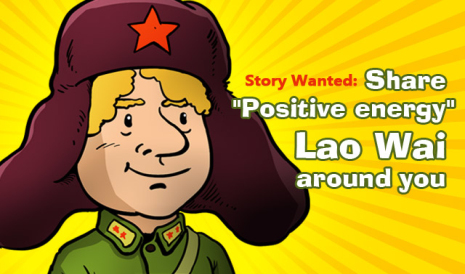 Have you heard Lei Feng? Do you know any "Lao Wai" who has similar characteristics as Lei Feng? Please don't hesitate to share his stories to us!
[2016-05-05 11:28]
Rizka is a positive young woman from Indonesia. She is not only an overseas student at Shanghai Ocean University and but also my best friend. I always model myself on her.
[2016-05-05 11:20]
When I got my first glimpse of Tee May Chin , she was demonstrating to 12 mothers, in fluent Chinese and with a warm smile, how to deal with a baby's respiratory tract infection using traditional Chinese medicine.
[2016-05-05 10:56]
He was resisting me sending this, but, I told many people who know him and they all insisted that I tell you about him.
[2016-05-05 10:37]
I learnt a great deal from him and hope myself and many more will take from him and together make our community a much better place.
[2016-05-05 09:51]
He's my idol who is always full of positive energy which affects me a lot.
[2016-05-05 09:15]
José is nobody more than a foreign teacher,neither a hero nor a celebrity,but we like him deeply.I am convinced that he is a positive person, otherwise how can he dare to go to an unacquainted country alone with an unsubstantial foundation of Chinese.
[2016-05-04 08:47]
What is positive energy?It's not just linguistic words. It refers to a kind of motive that can brings health ,joy and kindness. Positive energy is everywhere ,it can spread across this planet without borders. We will always enjoy real happiness after giving each other a hand .
[2016-05-03 11:26]
Life can be as tender as a flower, as hard as a rock, as free as a butterfly, as beautiful as the sight of a full moon or as painful as a toothache. It is all up to you.
[2016-05-01 14:41]
Charles, like Lei Feng before him, makes us stride in the right direction through his devoted and noble assistance, and by constantly injecting positive energy into our friendship.
[2016-05-01 14:33]
Six years have passed since that Children's Day. If I haven't by chance reviewed the pictures taken then, I would have forgotten that Ian had been involved in such a campaign.
[2016-05-01 14:24]
Love is powerful, and kindness is sunshine. Jacob and Sarah help poor children because they are deeply moved by them.
[2016-04-28 09:03]
Nowhere is the spirit of Chinese national hero Lei Feng better captured than in the life of Brian Linden.
...