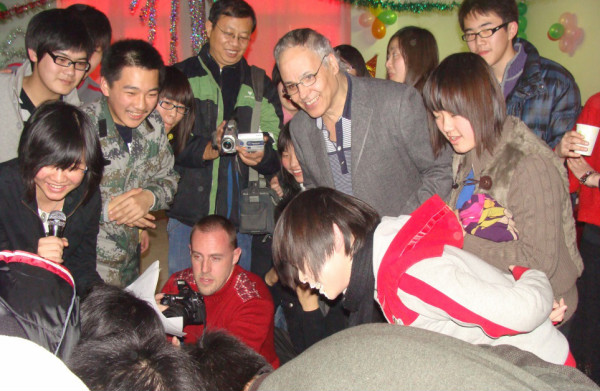 Sava and his students.[Photo provided to chinadaily.com.cn]
Upon being informed about this contest, I took few moments to contemplate the possibility of being perceived as a presumptuous or pretentious individual for recommending myself.
However, after exploring the issue more thoroughly, I came to the conclusion that I, rightfully, deserve to be included since I fit the criteria that are used to categorize an individual as a Lao Wai (positive energy) individual.
First of all, I am an optimistic person who always has a positive attitude towards the challenges of surviving the ups and downs of our hectic daily lives. Regardless of whatever setbacks that I suffered in my life, I was able to rationalize them and figure out their positive aspects.
Losing my wonderful father at an early age (I was 15 years when he died) taught me to appreciate life and become independent. Watching my younger brother at the age of 13 did not hamper my outlook and positive attitude toward life.
Having failing marriages led me to focus on developing my empathetic and sympathetic nature regarding the mishaps and errors of judgment of my fellow human beings. I began to acquire empathy and sympathy toward those who are less fortunate to suffer the hardships in life.
Early in my life, I embarked upon a journey of helping others whenever I had the chance. I began to seize every opportunity to do volunteer work helping the elderly and visiting patients at several hospitals in my hometown.
Helping others was the fundamental reason behind selecting education as my career of choice. Educating my students permitted me the chance to guide them toward achieving their objectives of securing prosperous futures for themselves.
I exerted and still exert every possible effort to facilitate their learning process. I referred to compassion, tolerance and patience to pave their route toward finishing their studies successfully.
I led them to tolerate the hardships of being a student by explaining the fact that they have two options in life.
The first option is to study hard which will lead to them finishing their studies successfully, land prestigious positions, have wonderful families and live happily for more than forty years.
The second option is to ignore their studies for the sake of having fun, which will result in being unable to finish their studies or do with poor grades, finding lousy jobs, having difficult time for find suitable spouses and leading miserable lives for more than forty years.
Fortunately for me, most of my students were, sufficiently wise to select the first option, which gave me a great deal of pleasure and pride.
Nothing was more rewarding than seeing most of my students land prestigious positions in various schools and organizations.
I have been adamantly active in protesting the injustices that people are, unfairly, subjected to by their fellow human beings. I used my gift as a writer to defend them through articles in different venues of the media including all English as well as Chinese newspapers.
I spent three years working with mentally and physically challenged youngsters in my hometown of Montreal, Canada. Being around them brought me nothing but appreciation of enjoying the luxury of having all my faculties intact.
Seeing them smile despite the fact that surviving every moment was a challenge for them geared me to acquire the attitude of greeting people with a smile regardless of my mood or circumstance. Fortunately, I realized that most of the time they reciprocated by smiling back at me.
I learned that most of my moods are influenced by my state of mind, which prompted me to start every day with a smile and self-praised compliment. Amazingly, I discovered that it is an effective means to alter my moods.
During my enjoyable stay in China, I attempted to rectify the Western misconceptions pertinent to my home away from home, China.
When CNN and Cafferty attacked Chinese characteristics, I wrote an article that was translated into Chinese and published by your distinguished newspaper, China Daily among other media venues.
Whenever natural disasters struck Chinese cities, I participated by donating funds to the victims and encouraged my students to follow suite. That led the Chinese Red Cross to award me with a certificate of honor in appreciation of my efforts.
Experiencing the exhilarating feeling of giving led me to financially help those who are in need whenever my budget allowed it.
From the above, one may wonder: "Am I describing myself as an earthly angel?" I must acquire that I am no angel. Actually, I do possess numerous shortcomings that I have no need to mention here. I also, ought to state that I was influenced to a great extent by my parents who did everything possible to educate me morally.
My late father repeatedly told me when I was a child that I should offer help whenever I can, bearing in mind that one day someone else will return the favor by helping me. That proves to be true through the span of my life so far.
Another wise man that is also, unfortunately, deceased, had great impact upon molding my personality. I can vividly remember his words of wisdom.
"Life can be as tender as a flower, as hard as a rock, as free as a butterfly, as beautiful as the sight of a full moon or as painful as a toothache. It is all up to you."
Fortunately, for me, I chose mine to be full of optimism and to smile all the time regardless of my circumstances or moods, to acquire positive energy to spread around me, to have a generosity of spirit to help others whenever I can and become an exemplary model for my students to follow.
Finally, I must be gracious enough to thank you for permitting me the opportunity to participate.