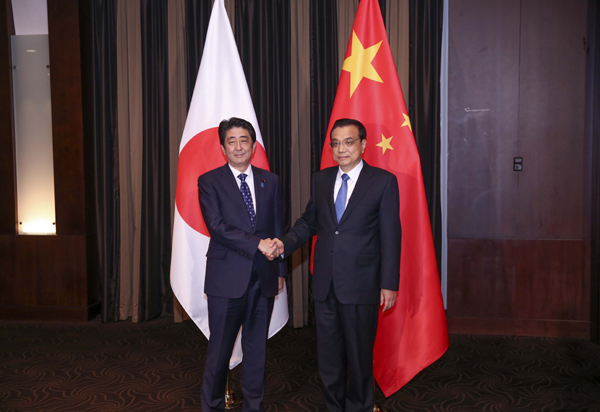 Chinese Premier Li Keqiang meets with Japanese Prime Minister Shinzo Abe in Seoul, Nov 1, 2015. [Photo/chinadaily.com.cn]
Learning from Japan was trendy in China in the late 1970s and 1980s when the country started its reform and opening-up drive. As one of the top industrialized nations in the world, Japan had a lot to offer China, everything from management to technology to education. The Japanese economic miracle was also the envy of many Chinese.
In those days, the Japanese economy was several times larger than that of China, and Japanese tour groups were obvious on Shanghai's streets.
However, China overtook Japan as the world's second-largest economy in 2010 and is on way to surpass the United States, if it has not done so already. In contrast, the Japanese economy has stagnated over the last two decades.
Learning from Japan is no longer in vogue in China despite the fact that Chinese tourists to Japan love buying Japanese products, such as electronic toilet seats and cosmetics.
The latest media reports about Japan in China have largely been about the public protests against Prime Minister Shinzo Abe's government's bid to revise the Japanese Constitution, the disputes over the sovereignty of the Diaoyu Islands in the East China Sea, Japan's attempts to meddle in the South China Sea disputes between China and some Southeast Asian nations and the Japan-US alliance that is increasingly aimed at containing China.
So it was a bit surprising to see the Chinese version of Harvard University Professor Ezra Vogel's 1979 book Japan as No 1: Lessons for America among the bestsellers in Shanghai's bookstores.
Vogel was insightful. He wrote the book in 1979, more than a decade before Japan became the world's second-largest economy.
Vogel became a Japan hand before becoming a well-known China hand. He firmly believed the US, despite being the world's largest economy and dominant power, had a lot to learn from Japan.
That was also the message he has today for China. In the preface for the new Chinese edition, Vogel expresses concern that some of his Chinese friends feel that China has nothing more to learn from Japan now that their economy has eclipsed that of Japan.