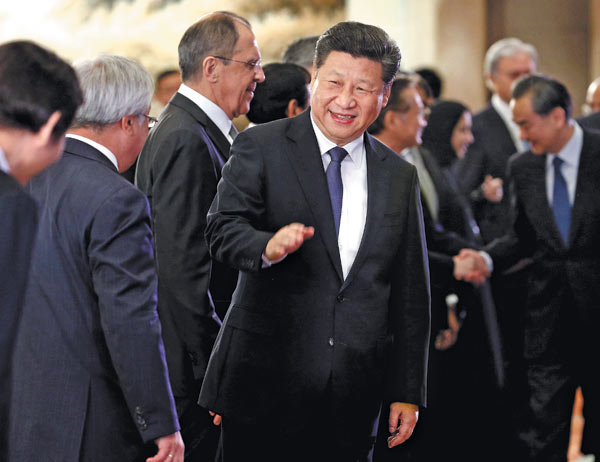 President Xi Jinping greets delegates at the opening ceremony of the fifth meeting of foreign ministers of the Conference on Interaction and Confidence Building Measures in Asia at the Diaoyutai State Guesthouse in Beijing on Thursday. WU ZHIYI / CHINA DAILY
Since President Xi Jinping took the helm, China's diplomacy has changed from the "passively responding" of the past to the current more composed and self-confident "actively guiding", which seeks to promote a global "community of shared destiny".
Xi has constructed a clear and more complete framework for the country's diplomatic strategy by introducing concepts such as the "Chinese Dream", "a correct outlook on morality and profit", and "a new type of relationship between major powers".
Xi's style of diplomacy has been hailed as opening a new era for China's "great-power diplomacy" and his diplomatic concepts, which are fundamentally beyond the constraints of the Western international relations theory, are based on China's cultural tradition of pursuing "peace and cooperation" with neighboring countries.
To put these concepts into practice, Xi has proposed a kind, sincere, reciprocal and tolerant foreign policy toward neighboring countries, a new pattern of cooperative and win-win international relations, the building of a network of global partners, and an Asian security outlook.
Under Xi's guidance, these diplomatic ideas have produced "Chinese solutions" to many global issues that have won China deserved respect from the international community and increasingly deepened its political mutual trust with other countries.
With its Belt and Road Initiative, for example, China is making active efforts to conduct economic cooperation with countries along the routes of the Silk Road Economic Belt and the 21st Century Maritime Silk Road.
Considering the different economic development levels among these countries and the huge discrepancies that exist in terms of their national conditions and political systems, the initiative's core principle of effective and win-win cooperation is based on respecting the actual conditions of different countries.
"Consultation, common construction and sharing" have been confirmed as the three major features of the initiative and these are a concentrated embodiment of China's long-advocated "equality, mutual benefit and win-win" diplomatic philosophy.