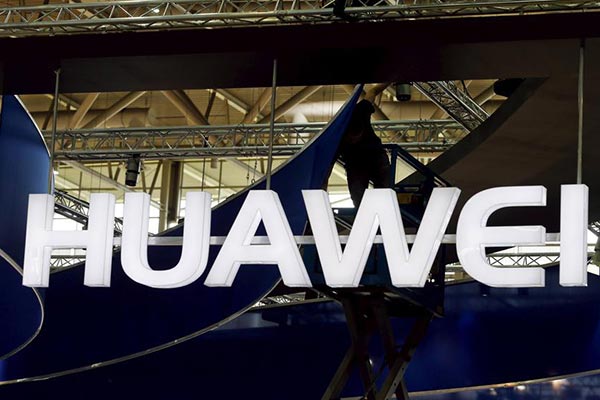 A worker adjusts the logo at the stand of Huawei at the CeBIT trade fair in Hanover, March 15, 2015.[Photo/Agencies]
In response to rumors suggesting high house prices had driven it out of Shenzhen, the Chinese tech giant Huawei denied on Monday any plan to relocate its headquarters from the southern city.
After all, the huge success of this Chinese telecommunication company started in Shenzhen, the iconic coastal city that pioneered and epitomizes China's reform and opening-up over the past several decades. In the absence of major changes in corporate ownership or business structure, there is hardly any urgent need to relocate its headquarters from where it survived and thrived.
But Huawei's concerns are real, the local property boom is not only crowding out land supply for industrial use and but also eroding its competitiveness in cost control.
Local policymakers should not breathe a sigh of relief simply because the cash cow has promised to stay. Instead, if one of the country's best tech firms is complaining about the pinch of soaring land prices, it is high time the local authorities consider the pros and cons of an ever-growing property boom.
Shenzhen has been one of cities to witness a drastic rise in housing prices since 2015 as the country's economic slowdown made the property markets of these so-called first-tier cities attractive to investors.
The latest statistics show that new-home prices soared 63.4 percent year-on-year in the southern city, the sharpest increase last month among all the major Chinese cities.
Led by the jaw-dropping surge in house prices in the first-tier cities, 65 of 70 large and medium-sized cities surveyed by the National Bureau of Statistics have seen new home price rises.
Such a recovery in China's property market since late last year has been deemed by some as a bright spot in the world's second-largest economy that is suffering from sluggish investment growth and weak global demand.
But is it really an elixir for the Chinese economy undergoing painful but necessary structural reforms?