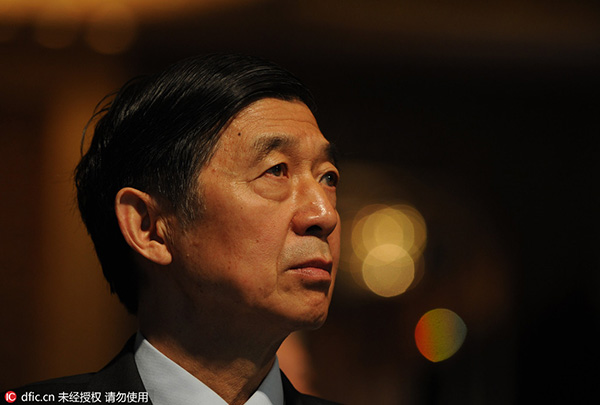 File photo of Wu Jianmin.[Photo/IC]
I was in Vietnam on Friday, and had a chance to meet a senior Filipino diplomat. Talking about how China and the Philippines should improve their strained ties under incoming President Rodrigo Duterte, he suggested inviting one prominent and open-minded Chinese diplomat to give a lecture in Manila later this year.
"Who do you think would be the right one?" I asked.
"Ambassador Wu Jianmin," the Filipino replied, without any hesitation. "He is a truly respectful diplomat for his exceptional manner, decency, and global view. I'm sure he will be welcomed."
He then asked if I could help. I accepted the request and said I would contact the 77-year-old former Chinese ambassador to France once I was back in the office on Monday.
But a huge shock came on Saturday morning, when Wu tragically passed away in a fatal car accident in Wuhan, Central China's Hubei province, that morning. He was on his way to give a lecture at Wuhan University to share his views of the current international situation.
I was devastated for I have been a longtime supporter of Wu's thoughts and views. His sudden death would be a huge loss to China's diplomacy and the academia of international relations.
In China, Wu was known as a hardcore "pigeon", who advocated always using peaceful and diplomatic means, like dialogue, to resolve differences between countries, instead of resorting to hardline ways, like showing muscle.
He famously argued that "anyone who resorts to war will fall in the current era of peace and development".
He was even involved in some recent debates with "hawkish" pundits. Some netizens, even labeled Wu as a "traitor" to the country.
But I would say that Wu's views should be cherished and appreciated in today's world when we see the slowdown, even retreat, of globalization.
It has never been perfect and some even claim the process has brought vicious byproducts to the world, like the spread of international terrorism.
But globalization has been humanity's creative means in global governance after two world wars. It has brought the international community an unprecedented level of interdependence, making it more difficult and expensive for countries, especially great powers, to declare war against each other.
I have recently been reading History of the First World War, by famous British military historian B.H. Liddell Hart, and it elaborated how the rise of nationalism and sometimes ultra-nationalism, led to a military buildup among European powers and the First World War from 1914-18.
But unfortunately, we recently have seen signs of the retreat of globalization and the rise of nationalism. Donald Trump's run for the US presidency and the UK's coming referendum on whether to leave the European Union are both vivid examples.
A veteran diplomat whose career began in 1959, Wu was a man whose lifelong experience made him a solid opponent of nationalism.
He is a proponent of communication and integration, which are both needed for today's China, when the international environment, especially in our surrounding areas, is getting increasingly complicated.
Shocked by his sudden death, I posted on my WeChat account, which I rarely do, my mourning for the respected senior: "Ambassador Wu was one of the few Chinese diplomats with true global vision, at a time of the retreat of globalization and the rise of nationalism. I hope it (his death) was not real."
Moments later, I was very grateful to receive a comment from another "hawkish" Chinese international relations scholar, who used to harshly criticize Wu for his softline stance.
"My tribute to Ambassador Wu. China needs to have different voices," he said.
Indeed. A hardliner or softliner, nationalist or globalist, no matter what your choice, communication should always be encouraged.
Mr Wu, you will be always remembered for your thoughts and bravery.
The author is a staff writer who focuses on China's foreign affairs and international relations. zhanghaizhou@chinadaily.com.cn