Editor's note: China's "left-behind" children cannot spend Children's Day with their parents, who leave for cities in search of a better life. China has an estimated 61 million "left-behind" children who live alone or with elderly relatives. Who should care for these children? Forum readers share their opinions.
pimpernel2 (Expat in China)
In the UK and most of Europe, etc, it would be illegal for both parents to leave their kids behind without at least a grandparent that's capable looking after them and sending them to school. The kids (in the UK) would be taken into care and the parents would be searched for by the police and social services sector. Even leaving a young child at home unsupervised or fed for one day is illegal! The relatives, local community and the police should also hang their heads down in shame.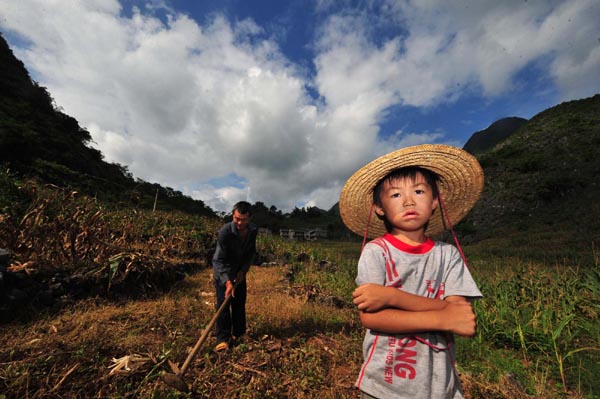 Qin Xiaohui, 6, helps his grandfather with farm work in a field in Balie village of Dahua Yao autonomous county, South China's Guangxi Zhuang autonomous region on July 5. Qin looks forward to the day when he is bigger and can help his grandfather more on the farm.[Photo/Xinhua]