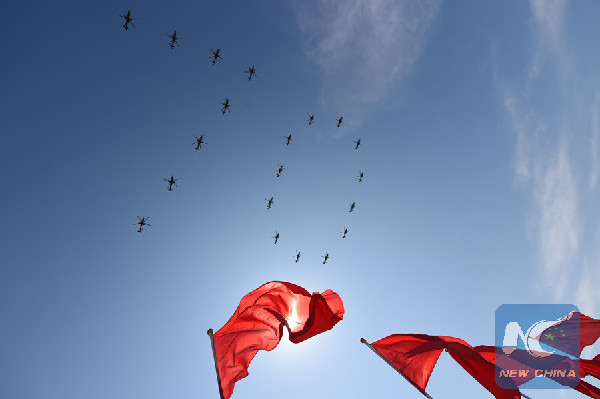 Helicopters displaying the number "70" attend the military parade in Beijing, Sept 3, 2015. [Photo/Xinhua]
BEIJING - China put on a massive military parade Thursday to mark the 70th anniversary of the victory of Chinese People's War of Resistance against Japanese Aggression and the World Anti-Fascist War.
The epic V-day parade has drawn rapid comments from media worldwide.
Germany's Der Spiegel magazine reported that Beijing held the largest scale of military parade in the nation's history while the Chinese leader said in his speech prior to the parade that the country will substantially reduce the number of troops.
A BBC reporter analyzed President Xi Jinping's announcement of army reduction and said: "[T]he army cuts will not mean a weaker China. It is also upgrading its naval and air forces...so does not need as many boots on the ground."
"Former UK Prime Minister Tony Blair is at the parade," the Guardian noticed.
The Sydney Morning Herald published an article titled "China's military parade: who's coming, who's not".
"One leader whose absence was never in doubt was Japanese Prime Minister Shinzo Abe," CNN said, acknowledging China's will to look into the future in terms of Sino-Japanese relations.
Russia's RIA Novosti gave attention to the weapons exhibited during the parade: Chinese authorities intend to demonstrate to the country's residents and the invited guests 500 pieces of 40 types of military equipment.
JoongAng Ilbo of South Korea mentioned President Park's clothing:President Park attended China's military parade wearing a yellow jacket.
The Kyunghyang Shinmun of South Korea hailed China's parade: A parade that lasts for 70 minutes, a rise that takes 70 years.