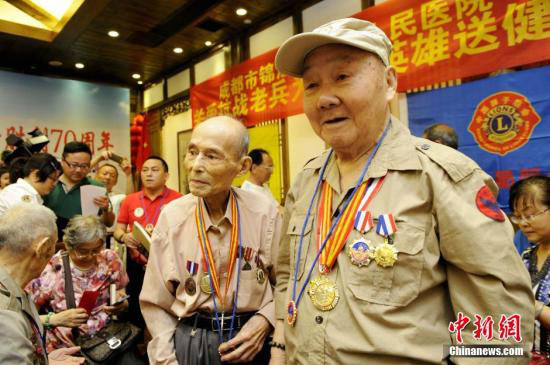 File photo of veterans from Chengdu, Southwest China's Sichuan province, who fought in Chinese People's War of Resistance against Japanese Aggression. [Photo/Agencies]
History can be divided into two parts. Actual history, which is what really happened, and factual history, which is made up according to the interests of powerful nations. This appears in ancient history much as many facts are in the hands of archeologists and well-established archeological institutes, not among common people. However, sadly this is also what happened when the world wrote the history of WWII. China's role was not taken seriously, as most documentaries and reports favored victory mainly due to the Europeans and Americans. BBC's WWII documentary, which can be considered the best among thousands of world war reports, dedicated two entire episodes on Russia's role in defeating Nazi Germany. However, I do not remember if there was even a word about China in the entire series.
The truth is bitter. China lost more than 14 million brave lives. About 100 million innocents became refugees. It seems the world forgot one of the major victims and the story of the bravest struggles among all in WWII.
Now China is powerful and wealthy. It no longer needs sympathy from others to write its role in history. The country itself can occupy its rightful place in history. Therefore Victory Day will be added to the calendar from this year and it will begin the journey to establish China's role in the history of WWII.
Today around 10am, I managed to watch the parade using Iqiyi.com online streaming. The parade was unprecedented in scale, as it was exactly reported on the BBC. The massive parade started after greetings from President Xi, "Tong Zhi Men Hao" … "Tong Zhi Men Xin Ku Le", which represents the love and care of a leader to the people.
Enemies and haters of this wonderful nation will say many things, but probably they hardly pick up some flaws in the parade. However, I think as a nation that lost 14 million lives in WWII, China has the right to hold this parade and tell the story of its contribution to victory in the biggest war that ever happened on this earth, WWII. And they did it well. As sons and daughters of brave mothers and fathers who scarified their blood to end WWII, they did their duty well. They made their parents proud.