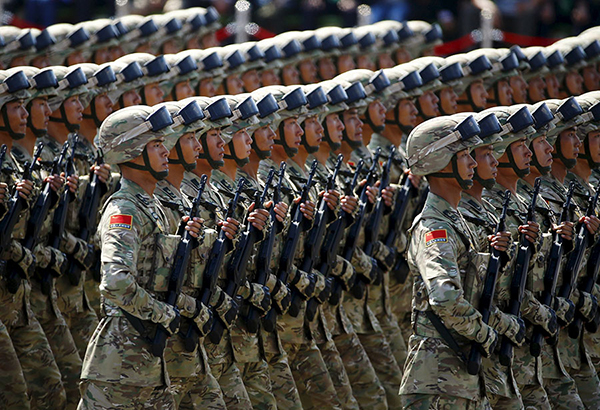 Soldiers of China's People's Liberation Army (PLA) march during the military parade marking the 70th anniversary of the end of World War Two, in Beijing, Sept 3, 2015. [Photo/Agencies]
I have watched China's National Day parades live on TV in China since 2008 and Thursday's 70th anniversary of the ending of the War of Chinese Resistance against Japanese Aggression naturally brought back memories. However this ceremony was different and noticeably so from the start because of the presence of a large number of international dignitaries: 50 countries were represented by 32 by heads of state, along with senior officials from 18 others. Officials from 10 international organizations also were there, including the secretary general of the United Nations.
This is fitting as the primary purpose of the event, attended by 40,000 and watched by billions, is to remember and thank all who gave their lives (and the sacrifices of their families) in the cause of preserving nations' freedoms and defeating fascism. It also was an opportunity to learn the lessons from such events and show that peace is the most important goal among the world's leaders. China underscored this today by announcing a reduction of 300,000 troops from its military force.
In that regard I feel it is a shame that Japan's prime minister did not see fit to attend and that some Western powers, perhaps understandably, did not send their highest level representatives to show their commitment to peace after a war that touched so many nations and their citizens. However, surviving war veterans from many nations made this memorable trip.
To describe the parade itself as impressive would be an understatement. Well-rehearsed and delivered with precision under beautiful blue skies is a better way to say it. Moments from the parade were memorable, from President Xi's speech honoring past leaders, through the moving sight of surviving veterans, average age 90, leading the parade in open top buses. There were formations of foreign troops marching past the watchful eye of President Xi (and President Vladimir Putin - Russia sent a big military contingent)to the new equipment on display.
These military assets were a timely reminder that future warfare and defense of peace is heavily dependent on technology. The armed police anti-terrorist vehicles were a reminder that violence in the world is now generally not nation versus nation, but pits factions within nations against the civil state.
There were some impressive air displays, too, and no accidents - I say that because, sadly, a few recent air shows in the West have witnessed tragic crashes. Chinese precision was in evidence.
Overall, the parade was a reminder that peace rests on the ability to deter and defeat aggression. I was impressed.
Colin Speakman is an economist and director of China Programs at CAPA International Education, a US-UK organization that cooperates with Capital Normal University and Shanghai International Studies University.