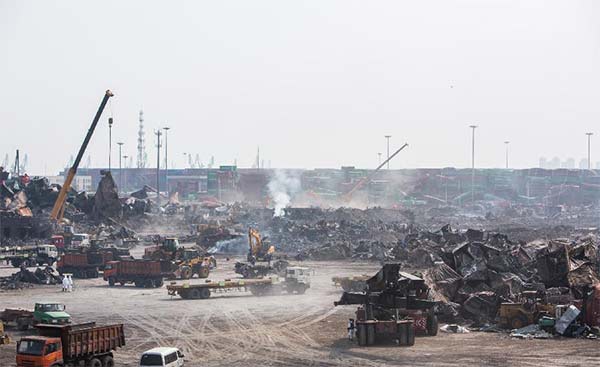 Rescuers clean up containers at the core area of the warehouse explosion in north China's Tianjin Municipality which occurred on Aug 12, 2015. [Photo/Xinhua]
TIANJIN - A monument will be built on the site of the deadly Tianjin blast in memory of those who lost their lives in the accident last month, Binhai New Area authorities announced Friday.
Tianjin plans to build a 24-hectare park on the site of the blast and the monument will be given pride of place, according to Binhua New Area Planning and Land Resources Administration.
In addition, there are also plans to build primary schools and kindergartens in the area, and over 5,000 apartments have been made available to those who lost their homes as a result of the explosion.
Two explosions ripped through a warehouse in Tianjin Port on Aug. 12. The warehouse was storing large amounts of toxic chemicals, including around 700 tonnes of sodium cyanide.
One hundred and sixty people died, including 96 firefighters and 11 policemen. Eight firefighters and five civilians are still missing.
Hundreds more remain in hospital.