Regulations stricter by far than the ones imposed during last year's APEC meetings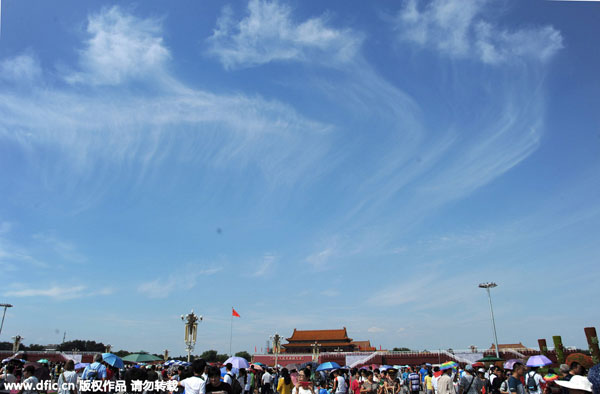 Blue sky above the Tian'anmen Square in Beijing on Sept 6, 2015. [Photo/IC]
Beijing has seen a lot of azure-blue skies since Aug 20, when the government began taking strict control of industrial and automobile emissions ahead of last week's military parade.
The air quality was "as good as some metropolises of developed countries", the capital's environmental watchdog said on Sunday.
The daily concentration of PM2.5-airborne particles smaller than 2.5 microns in diameter that can penetrate the lungs and harm health-averaged only 17.8 micrograms per cubic meter from Aug 20 to Sept 3. This was the period of restrictions that included the suspension of work at polluting companies and construction sites, along with sharply curtailed driving.
The PM2.5 reading was reduced by an average of 73.2 percent year-on-year, the Beijing Environmental Protection Bureau said on Sunday.
"For 15 days, residents have experienced good air quality," said Zhang Dawei, director of the Beijing Municipal Environmental Monitoring Center. "It was as good as the annual index in some metropolises in developed countries, such as Paris, London, Moscow and Singapore."
Events on Sept 3 marked the 70th anniversary of the end of World War II, and the clear skies were accommodating. At only 8 micrograms per cubic meter, PM2.5 was at its lowest in two years, the bureau said.
The reduction on PM2.5 was mainly due to the restriction of coal consumption and use of vehicles, said Zhang, though he said sulfur dioxide concentrations were also reduced.