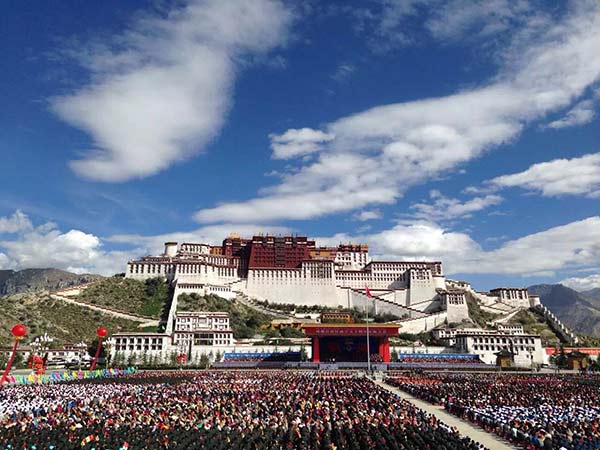 A grand ceremony is held in front of the Potala Palace to celebrate the 50th anniversary of the region's founding, Sept 8, 2015. [Photo by Da Qiong/China Daily]
6,000 people to stage a colorful parade; government visitors to bring presents
National flags fly atop office buildings and from the windows of many homes. Red lanterns hang from electrical poles. Red banners with slogans in Chinese and Tibetan languages cover the railings of overpasses in the streets.
The capital of the Tibet autonomous region staged a grand ceremony Tuesday in front of the Potala Palace in Lhasa, capital city of the Tibet Autonomous Region, to celebrate the 50th anniversary of the region's founding.

The Tibet autonomous region was founded on Sept 1, 1965, after the establishment of the regional People's Congress, the local legislature, through elections.
Top political adviser Yu Zhengsheng, heading a 65-member delegation from the central government, attended the ceremony.

China will deepen the battle against separatism and crack down on all kinds of separatist activities, Yu said when delivering a keynote speech at the ceremony.

According to Xinhua News Agency, more than 6,000 people from around Tibet will stage a colorful parade. Nine festooned vehicles will cap the ceremony. More than 20,000 people from all over Tibet are expected to attend.
China's major State media outlets, including China Central Television, broadcast the ceremony.
The delegation will also present gifts to Tibetan people, including solar-powered television sets, according to a Xinhua report.
In 2005, for the autonomous region's 40th birthday, the central government sent a solar cooker to the household of every farmer and herdsman.
Yu, chairman of the National Committee of the Chinese People's Political Consultative Conference, met several incumbent and retired high-ranking Tibetan officials, including senior legislator Qiangba Puncog and political adviser Pagbalha Geleg Namgyai, at the Lhasa Hotel on Sunday afternoon, according to Xinhua.
On Monday morning, Yu, who also a member of the Standing Committee of the Political Bureau of the Communist Party of China Central Committee, met members of the leading group of the autonomous region, as well as representatives of retired officials and people from all walks of life.
He and other members of the delegation also attended the opening ceremony of an exhibition highlighting the 50th anniversary of the Tibet autonomous region at the Tibet Exhibition Center.
Later in the morning, Yu visited Jokhang Temple and talked with some of the region's religious leaders and monks from the most sacred monastery in Tibet. He presented gifts to the temple and alms to the monks.
In the afternoon, Yu and a few members of the delegation visited the Tibet Armed Police Corps, part of the Chinese People's Armed Police, as well as People's Liberation Army troops stationed in Lhasa.
They also met representatives of local police officers. Yu extended regards and greetings from the central government.
In the evening, members of the delegation were introduced at the reception dinner marking the 50th anniversary and watched a gala titled Chinese Dream-Snow Mountains' Happy Songs after the dinner.
The Tibet autonomous region was founded on Sept 1, 1965, after the election of the regional People's Congress, the local legislature.
Contact the writers at chenliang@chinadaily.com.cn and daqiong@chinadaily.com.cn