LeBron's superhuman surge tames gallant Grizzlies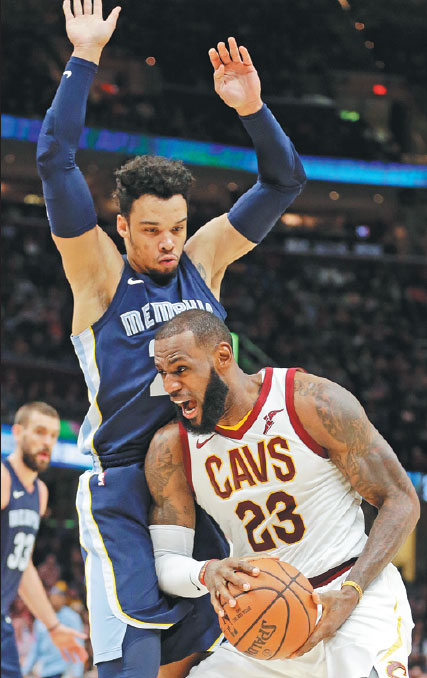 LeBron James of the Cleveland Cavaliers drives against Dillon Brooks of the Memphis Grizzlies during Saturday's NBA game in Cleveland. James scored 34 points as the Cavs beat the Grizzlies 116-111 for their 11th straight victory. Tony Dejak / AP
CLEVELAND - The Cavaliers' winning streak was in unexpected jeopardy on Saturday night before LeBron James took over.
James scored 34 points, including seven in the final 82 seconds as Cleveland beat the Memphis Grizzlies 116-111 for its 11th straight victory.
The loss was the 11th straight for Memphis, including three since David Fizdale was fired on Monday and replaced by interim coach JB Bickerstaff, but the Grizzlies nearly ended their streak in sensational fashion.
Memphis trailed 91-72 late in the third quarter, but rallied all the way to tie it at 109 on Dillon Brooks' 3-pointer with 2:10 remaining.
That's when James stepped up, to the surprise of no one in the building, particularly Dwyane Wade, his long-time friend and teammate.
"You just shake your head," Wade said. "It's impressive, man. When you're on a team and you have a guy when the game gets close and you can get him the ball and he comes through, maybe not all the time but it seems like every time ... we know he's going to make the right play."
James' basket in the lane gave Cleveland the lead. After Tyreke Evans missed a 3-pointer, James drove the lane, scored and converted the three-point play after being fouled by Brooks with 34 seconds left.
Brooks made two free throws, but James dribbled for several seconds on Cleveland's next possession and hit a jumper from the top of the key for a five-point lead with five seconds to go.
"When it's winning time in the fourth quarter, my teammates want me to step up and do what I do best," said James, who scored or assisted on Cleveland's last 17 points.
"That effort tonight would have beaten 90 percent of this league on their home court," Bickerstaff said. "Unfortunately, they've got a guy who is pretty damn good."
Evans had 31 points and 12 assists for Memphis. Marc Gasol scored 27 and passed 10,000 career points despite being listed as questionable after injuring his left foot in Friday's loss to San Antonio.
Cleveland has scored at least 100 points in each game during its streak and is closing in on its longest winning streak since it ripped off 12 straight in 2015.
James scored 11 points in the final six minutes of the second quarter, including a pair of three-point plays and a jumper from the corner at the buzzer, helping Cleveland to a 66-52 halftime lead.
James, the reigning NBA Player of the Month, also had 12 assists. He has shot 50 percent or better from the floor in each of his last 10 games.
Kevin Love added 20 points and 11 rebounds for Cleveland. He went to the floor after banging knees with JaMychal Green in the third quarter, but remained in the game.
Memphis point guard Mike Conley missed his ninth straight game because of a sore left Achilles.
Rose update
Cleveland coach Tyronn Lue said the team's communication with point guard Derrick Rose has been positive.
Rose is away from the team because of a personal matter. He also has been sidelined by a sprained left ankle.
Rose is averaging 14.3 points in seven games. He was originally injured on Oct 20, but returned after missing four games. Rose played in Cleveland's next five games, but the team announced on Nov 17 he would receive treatment on his ankle and be re-evaluated in two to three weeks.
Rose has been plagued by injuries since being named the league's MVP for the 2010-11 season.
Gasol wasn't cleared to go until arriving at the arena, but played a game-high 41 minutes. He underwent an MRI on Saturday that revealed no structural damage. "The medical staff was a little worried, but when it's only pain, I'm going to play," Gasol said. "We were able to manage it."
Clipper Carlisle joins 700 club
JJ Barea had 21 points and 10 rebounds, and the Dallas Mavericks beat the Los Angeles Clippers 108-82 on Saturday for coach Rick Carlisle's 700th career win.
Dallas went 16 for 35 from 3-point range and had five players score in double figures. Dirk Nowitzki went 5 for 5 from long range on his way to 16 points, and reserve Devin Harris finished with 15 points.
Carlisle became the 18th coach in NBA history with at least 700 wins. Greg Popovich (1,164) and Doc Rivers (812) are the only other active coaches to make it to the milestone.
DeAndre Jordan had 14 points and 17 rebounds for the Clippers.
Associated Press
Most Popular
Highlights
What's Hot