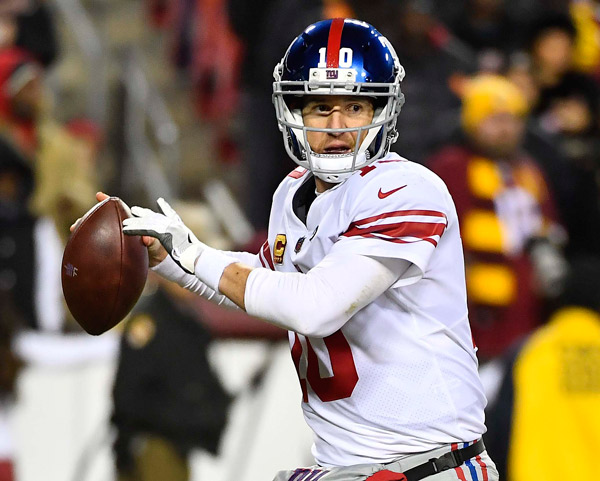 New York Giants quarterback Eli Manning's streak of 210 consecutive NFL starts came to an end on Tuesday when the Giants announced that backup Geno Smith will get the ball against the Oakland Raiders this week. [Photo/Agencies]
EAST RUTHERFORD, New Jersey - The Eli Manning era with the New York Giants might be coming to an end.
And if it is, it's ending ugly.
The Giants announced on Tuesday that the two-time Super Bowl MVP was being benched for the first time in more than 13 years so they can evaluate the other quarterbacks on the roster over the final month of the NFL season.
The decision to sit the 36-year-old Manning was totally unexpected, especially with five games left in the regular season.
It was clear the decision hurt and annoyed the quarterback who has been the face of the Giants (2-9) since they made a bold draft day trade with the San Diego Chargers in 2004 to swap first-round picks and obtain the No 1 overall selection.
Manning expressed his unhappiness but once again played the good soldier, voicing his support for veteran Geno Smith, who will start against Oakland on Sunday.
Manning's emotional pain was all over his face. His eyes welled with tears and his chin quivered when he was asked about how much this hurt.
Coach Ben McAdoo gave Manning the option of starting to keep his streak of 210 consecutive starts alive, but he didn't want any part of that.

"You start knowing you are going to come out of the game to keep a streak alive, maybe, but that's not what it is about," Manning said.
"It's not a preseason game where you are going to start to the half, the next week a quarter, a series, that's not fair. That's not fair to me, not fair to Geno, not how you play.
"You play to win. When you are named the starting quarterback you think it's your job to go win the football game.
"If you are only going to play a little bit, I don't think that's right," said Manning, who became the Giants' starting quarterback 10 games into his rookie season in 2004.
Manning's voice broke when asked how this one hurt, noting it was one of his hardest days as a Giant.
"It's been a hard day to handle this, but I'll hang in there and figure it out," he said.
Manning spoke with the media for less than four minutes. He then took his backpack and left the locker room.
McAdoo said he made the decision to start Smith over the weekend, and co-owner John Mara and general manager Jerry Reese were in agreement.
"This is not a statement about anything other than we are 2-9, and we have to do what is best for the organization moving forward, and that means evaluating every position," Reese said.
"I told Eli this morning that an organization could not ask for any more in a franchise quarterback. He has been that and more.
"Nobody knows what the future holds, but right now, this is what we think is best for the franchise."
McAdoo, the second-year head coach, said the organization needed to learn more about Smith and rookie third-round draft pick Davis Webb in the final weeks of the season.
Smith took four snaps in a blowout loss to the Rams. Webb has not played.
McAdoo refused to say if this was the end of the Manning era.
"I have a lot of confidence in Eli as a player, as a quarterback," said the coach.
"But at this point, it's my responsibility for the organization to make sure we take a look at Geno and at some point take a look at Davis and give them the opportunity to show what they can do."
Manning and Smith were told about the decision on Tuesday, and later the team was filled in.
Manning's starting streak is the second longest by a quarterback in NFL history, behind Brett Favre's 297.
He has started every Giants game since Nov 21, 2004, when he took over for veteran Kurt Warner in the 10th game of his rookie season.
Manning has also started 12 playoff games, and twice led the Giants to Super Bowl victories. He holds almost all of the franchise's major passing records. This season, he has thrown 14 touchdown passes and seven interceptions. He will turn 37 on Jan 3.
Associated Press
(