Jack Ma: Globalization backed by technology will cut inequality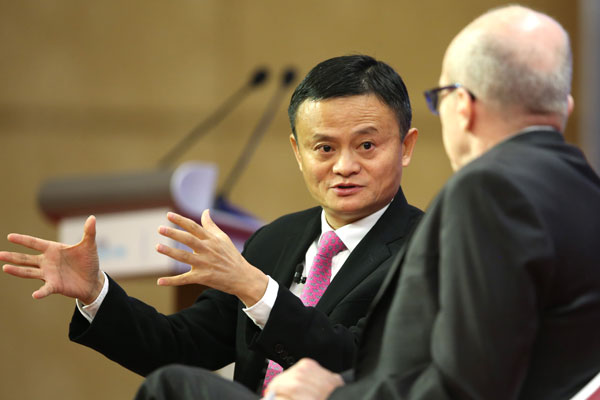 Jack Ma, founder of Alibaba Group Holding Ltd, shares views on globalization and technology in Guangzhou, South China's Guangdong province, Dec 6, 2017. [Photo by Feng Yongbin/China Daily]
Jack Ma, founder of Alibaba Group Holding Ltd, said on Wednesday that globalization will help reduce inequality as technology empowers small countries and businesses.
"In the next 30 to 40 years, globalization will empower 80 percent of countries, businesses and people that have not benefited from globalization. That's because of the power of the internet and technology," Ma said at the 2017 Fortune Global Forum held in Guangzhou, capital of Guangdong province.
If more efforts are made to impart knowledge and know-how to small businesses, that will significantly contribute to inclusive growth, he said.
As founder of China's largest e-commerce player, Ma also addressed concerns about market freedom and monopoly as Alibaba is getting bigger in both size and influence.
"We will get bigger, but we are building an infrastructure for doing businesses.
Our goal is to be an enabler that helps small businesses reach more consumers and apply technology in a very cost-effective way. We are also helping big companies such as P&G reach the rural market in China," he said.
The tech tycoon also made suggestions to foreign companies which want to better tap into the China market, adding they should be more patient about investments into the country and have a long-term commitment.
"Bringing capital and management staff is not enough. They should also bring technology and talents," he said.