Scot compares first-round effort to Bale's magic for Real Madrid
Andy Murray compared Tuesday's hard-fought first round win at the French Open to Gareth Bale's explosive impact in Real Madrid's Champions League triumph.
The Wimbledon champion overcame chilly, blustery conditions on a heavy court but still had too much guile to overcome world No 59 Andrey Golubev of Kazakhstan 6-1, 6-4, 3-6, 6-3.
When asked if his win was akin to Real Madrid winning the Champions League against Atletico Madrid, the Scot said winning in tennis is much the same as in soccer.
"Some of my friends are Barcelona fans and I was just winding them up a little bit to start with," he said in reference to Real's 4-1 extra-time win.
"But there is a point that just because someone doesn't play particularly well (Bale), you know, scoring what was essentially the winning goal in a game of that magnitude, that's what top athletes do.
"They find ways to win or influence the outcome of matches or games when they aren't playing their best or when they have had chances and missed them."
Indications are there that the 27-year-old Scot is almost back to his best after recent back surgery and a solid win in Paris follows his run to the Rome Masters quarterfinals, where he fell in three sets to Rafael Nadal.
"It was tough conditions. It was obviously windy, especially with the beginning of the match, and very heavy conditions, cold and slow. There wasn't too much rhythm out there. It was a very tricky match," said Murray who won his first Grand Slam at the US Open in 2012.
The Wimbledon champion reached the 2011 semifinals on the Paris clay, his best result to date on his least favorite surface but he was given a stern workout by Golubev.
Still without a coach since splitting with Ivan Lendl, Murray used a patient baseline game and won just under 50 percent of his opponent's service to wrap up a place in the last 64.
When asked about a future coach, Murray joked: "I'm looking, but not many people want to work with me."
Enticing draw
This year's Australian Open champions, Stan Wawrinka and Li Na, failed to survive a round in Paris while several other big names such as Grigor Dimitrov and Caroline Wozniacki have already departed.
Murray, who was seeded to meet Wawrinka in the quarterfinals, now looks to have relatively enticing draw before a probable semifinal clash against eight-time champion Nadal - although he was looking no further ahead than his second round match with Australia's Marinko Matosevic.
"It's been quite a few upsets here the last few days and tricky conditions," said Murray, who missed the tournament last year with a back problem that eventually required surgery.
The Scot has not been knocked out in the opening round of a Grand Slam tournament since losing to Jo-Wilfried Tsonga six years ago at the Australian Open.
"I have not always played my best tennis at the beginning of tournaments, but I've found ways to get through and get myself into the tournament and give myself opportunities to do well in these events," he said.
Without a career title on clay, Murray's chances at the French Open are probably less than at the other three Grand Slams, but he looked impressive against Golubev and defended like a contortionist when pushed into corners.
With a semifinal and two quarterfinal runs at Roland Garros to his name it will take a good player to beat Murray here, although he knows he will not be able to afford the kind of lapse he suffered in the third set against Golubev.
Despite dropping his serve too often for his liking and being outplayed for a while in the third, Murray rarely looked panicked and finished with something to spare.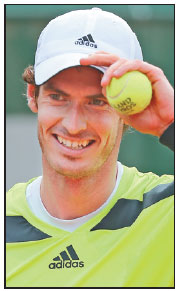 Andy Murray adjusts his cap after beating Andrey Golubev 6-1,6-4,3-6,6-3 in the first round of the French Open on Tuesday. David Vincent / Associated Press
(China Daily 05/29/2014 page24)