(on losing her rhythm in the second half of the match): I was feeling maybe start the match too exciting. So when after one half set I was feeling no more energy left. Yeah. And also, I think it's a tough tournament, because I was play five days in a row. Every opponent top 8, so, you know, never have an easy match in this tournament.

(on playing 15 tournaments I 2013 ): I played you said 15 tournaments? That's really not a lot, but, you know, looking it's really not a tremendous amount of tournaments. It's definitely I think the results which was more consistent, so if I could play the same amount of tournaments and not do any more, I'm okay with that. But 15 I think is a bare minimum, or it's pretty low. Maybe I will do 14 next year or 13. Yeah. But definitely not more. Maybe one or two less.

(on why she insist on staying in the match after the injury): Well, there are a few reasons why. Because there is no win situation here retiring, and, you know, being all discussed retired, and the other thing is just try to do the best. I don't have a tournament next week. The physio told me, they told me, You're really locked. There is no really structure damage, but you can't fix it that quickly.

Jelena Jankovic
(on the Li Na-Serena Williams showdown in the final): Li Na is playing very well, as well. I think Li Na is in incredible form. But Serena is playing so well, too. So I think it's going to be a great match to watch. I think both of those players deserve to be in the finals. I think the fans are going to enjoy a fun match.

Sara Errani

(on how difficult to make Championships two years in a row ): Very difficult. I know to be here is very difficult. I know it, but I'm ready to work, to fight every match, and doesn't matter how it be. I hope it will be good. But important for me always I say to fight and try my best. They are all so good opponent. We will see. I'm very happy to make these two Masters in these two years. I know it will be difficult, but I'm ready to continue. I hope to continue.

Peng Shuai

(on her bad fall during the second set): I was going for the ball when I was tripped by Hsieh (Su-wei). As a result I skinned both of my knees. When I was about to hit the floor I threw the racquet away and then went down. I didn't even know if we won the point until Hsieh told me it was the most humiliating play for us by far.

Angelique Kerber

( on preparation for tomorrow's match against Kvitova): Yeah, tomorrow it will be the next tough match, and, you know, I will just try to play like today, go out there, try to enjoy it, having fun and try very good tennis and be focused from the first point and moving very well.

Petra Kvitova
(on her overall performance in 2013): Well, I think if somebody told me after the US Open that I will play semifinals here, I think that he's crazy, but now, I mean, I think it takes some days to look back at 2013. But I think it wasn't bad, this tournament, and all season was really up and down. There was tough moments in this season, great moments. I think that this tournament was still one of the best ones.

Agnieszka Radwanska

(

on how she deals with loss in general): Well, I think it depends. I think every loss is a little bit different. You know, you feel different when you lose, I don't know, the semifinal of a Grand Slam or second round of the international tournament. I think this is different losses. You deal with this differently.
WTA chief: China Open getting better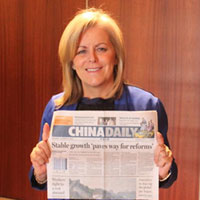 WTA Chairman & CEO Stacey Allaster sat down with China Daily for an exclusive interview in which she weighs in on Tianjin losing the WTA Championship bid to Singapore, the expansion of the China Open in the past decade and Li Na's influence on the association >>>
Li Na: It takes a team to build a champion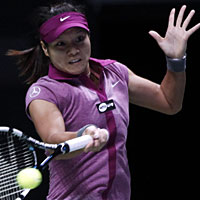 I set a goal of cracking the world top three at the beginning of this year, so to finally meet it in the year-end finale is a pretty nice way to finish the 2013 season. To be honest, I think I missed quite a few opportunities to reach that goal earlier in the season, but they all seemed to somehow slip away. After the China Open I had a long talk with my coach, Carlos Rodriguez, during which he informed me of scenarios for clinching the No 4 and No 3 rankings if I made the semifinal and final, respectively, at these Championships >>>
Li Na: First match is never easy
Li Na insists 2013 is her best year
Coach talks about Li Na's improvements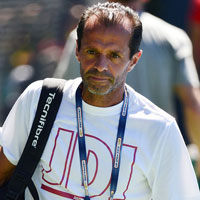 Carlos Rodriguez summarizes his evaluation of Li Na's performance in 2013 in one word. Proud.
"I have to say I am proud of what she did today… She showed me that she can do what I ask her to do."
"What is important is, I've seen where Li Na's improved there, thanks to Serena, who pushed her (to a higher level). I am happy that Li found some very good things."
"She played a level of tennis she wasn't used to playing. I don't know if she understands how hard it is for her to do what she did today to go to the net against Serena. To have the courage to always make some volleys and win some points, it is not easy...think now physically and technically Li is a much better player than before." >>>
Coach: I'm proud of what Li Na did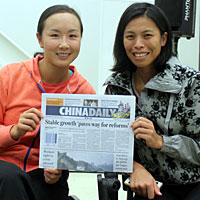 I'm thrilled to win the doubles title of the WTA Championships with my partner Hsieh Su-Wei in Istanbul today. I've received tons of text messages from friends following that match. How sweet is that...It has been a bittersweet season for me. I had those beautiful moments like today, but I went through rough patches as well. The daily routine of practice was exhausting and boring, but the company of coaches and friends took stress off my shoulders >>>
Angelique Kerber: Just focus on my game
Jankovic: Just believe in yourself