For me, Friday night's WTA Championships match was all about mental strength.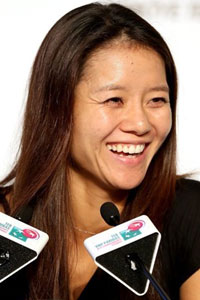 Li Na reacts during a news conference ahead of the start of the WTA Championships in Istanbul, Turkey, Oct 21, 2013. [Photo/CFP]
I tried to concentrate on my game instead of paying attention to Victoria's injury (
Azarenka
suffered a back injury while serving at 2-3, 15-40 in the first set). I didn't want to let changes on the court affect my rhythm and get to me.
Some of you may wonder why I would become even more focused when my opponent was hurting, but that is because you never know when she is going to rebound. So you have to stay focused and locked in.
I am glad I was able to maintain my composure and get the win. I have often said that this is my best year by virtue of my consistency.
But, of course, I feel sorry for Victoria. She seemed in a lot of pain and the squeal she let out at one point in the second set caught me off guard. After the first set I thought she would probably retire. But after the chair umpire said "time, time, time" (in the second set) I was like OK, let's continue to play.
If I was in her position, I would have probably chosen to retire. After the match I asked her how she felt and she said she was fine and wished me good luck for the rest of the tournament.
Many people tend to compare this match to the Australian Open final this year, but I put that loss behind me a long time ago.
Well, now I have finally reached the WTA Championships semis for the first time. I am going to play (Petra) Kvitova or (Angelique) Kerber, both of whom are lefties (Kvitova defeated Kerber later on). But I'm not going to think about that match right now; just bask in the glow of Friday's triumph.
I didn't know that I will become world No 3 if I can make it to the final but, because I am still in the tournament, I don't care about rankings right now.
I have accrued a lot of experience from making the Championships three years in a row. Maybe that is why Serena (Williams) and I, two of the oldest players, are in the semifinals. I won't say I am "happy" to not to be meeting Serena in the semifinals – you always have to face her if you want to win a tournament – but, yeah, maybe it is better to take on her in the final, haha!
Li Na: First match is never easy
Angelique Kerber: Just focus on my game
Jankovic: Just believe in yourself