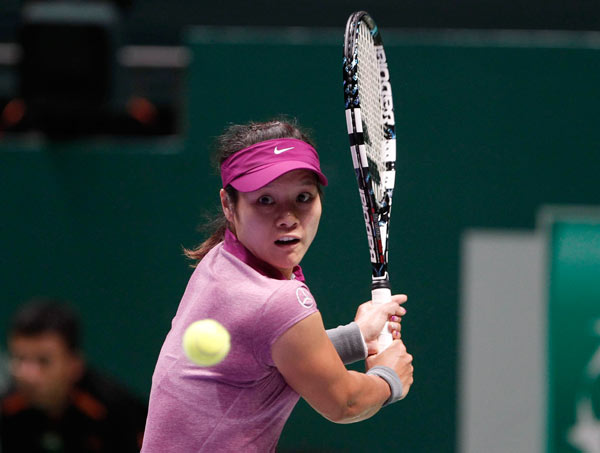 Li Na of China hits a return to Victoria Azarenka of Belarus during their WTA tennis championships match at Sinan Erdem Dome in Istanbul, October 25, 2013. [Photo/Agencies]
ISTANBUL - China's Li Na made it a hat-trick of White Group victories, overpowering back-injury victim Victoria Azarenka 6-2 6-1 on Friday to power through to the semi-finals of the WTA Championship.
Li next meets Czech Petra Kvitova, who beat German Angelique Kerber 6-7 6-2 6-3 in the Red Group, while world number one Serena Williams takes on Serb Jelena Jankovic in Saturday's other semi-final.
Kvitova, the 2011 champion, finished second behind the unbeaten Williams in the Red Group after unleashing 47 winners in her victory over fellow left-hander Kerber.
Jankovic faces Italian Sara Errani in Friday's third and final round-robin match.
World number two Azarenka was forced to take a medical timeout in the sixth game against Li and from then on she was only able to win one more game.
"Today the match was not about tennis, it was about fitness," Li told reporters.
"It was a mental challenge because I thought maybe after the first set she would give up or retire but she still tried to continue. I could have lost the match because I could not focus on the court."
Li will rise to number three in the world, the highest-ranking ever for an Asian player, if she reaches the final of the season-ending tournament.
Azarenka, who finished third in the White Group, said she carried on playing so as not to disappoint the crowd and out of respect to Li.
"I just wanted to try to do my best for the fans who came to watch and out of respect for my opponent," said the Belarussian. "It was just about trying to do the best I could out there."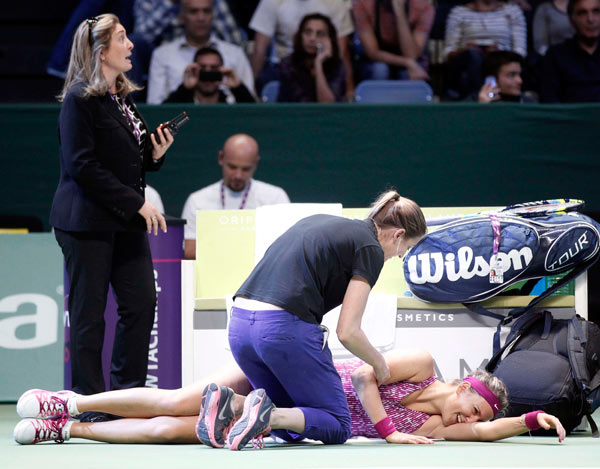 Victoria Azarenka of Belarus reacts to her injury during her WTA tennis championships match against Li Na of China at Sinan Erdem Dome in Istanbul, Oct 25, 2013. [Photo/Agencies]