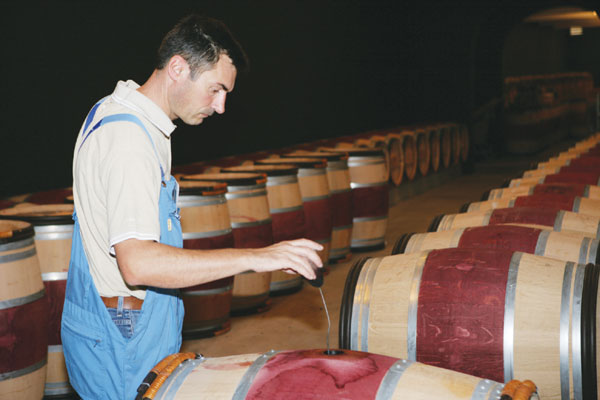 A worker at Chateau Leoville Poyferre, which has become the most popular brand of the Cuvelier family's wine business. Provided to China Daily
When Anne Cuvelier first went to China about 14 years ago to promote her family's wine business, at a tasting event in Beijing she found that foreign producers and chateau owners vastly outnumbered customers.
Today the situation is totally different, she says.
"People line up outside the venue and wait patiently to get in. The room is fully packed in less than 15 minutes," says Cuvelier, who looks after the marketing operations of her family's Chateau Leoville Poyferre, a second-growth chateau in the Medoc region near Bordeaux.
"This is something that could only happen in China," she says. "I am impressed by how quickly the Chinese have bolstered their knowledge and interest in French wines."
With China's growing wealthy and middle classes developing a strong enthusiasm for luxury goods and Western lifestyles, French wine exporters have enjoyed triple-digit growth in their exports to China over the past few years.
In 2012, exports of French wine reached 5.6 billion euros ($7.7 billion), the highest amount since the economic downturn in 2009, thanks to the growing demand for high-end wines in China, French Customs says.
China has become the largest Asian customer and the second-largest export destination for French wine. Consumption of red wine rose to more than 277.76 million 9-liter cases last year in the Asia-Pacific region, according to wine exhibitor Vinexpo.
While some producers' growth is slowing, the Chinese market still remains promising as Chinese wine drinkers are considered to be much more sophisticated and knowledgeable than they once were.
China is tipped to be one of the largest wine producers in the next five years, according to France's National Center for Scientific Research, and that is propelling more young professionals to formal training courses in Oenology, the study of wine and wine-making.
Wine education in China saw nearly 200 percent year-on-year growth last year, according to UK-based wine education organization, Wine and Spirits Education Trust.